AI Application
Development
3 Features of AI Application Development
Feature ①
Support for Deep Learning

In addition to traditional rule-based AI applications that perform tasks based on inputs, we also develop applications that support Machine Learning and Deep Learning.
*See the chart below

Feature ②
Cutting-edge Technology
Utilizing Highly Skilled Talent from Overseas

NTT DATA INTELLILINK Corporation utilizes overseas engineering resources to achieve the application of AI in business operations, both in terms of global use cases as well as application of cutting-edge technology.

Feature ③
Support in Research & Development

We can also provide assistance in conducting Proof-of-Concept (PoC) exercises for business application studies and R&D for new technologies.
We support a wide range of AI technologies
and provide AI solutions
to meet a variety of needs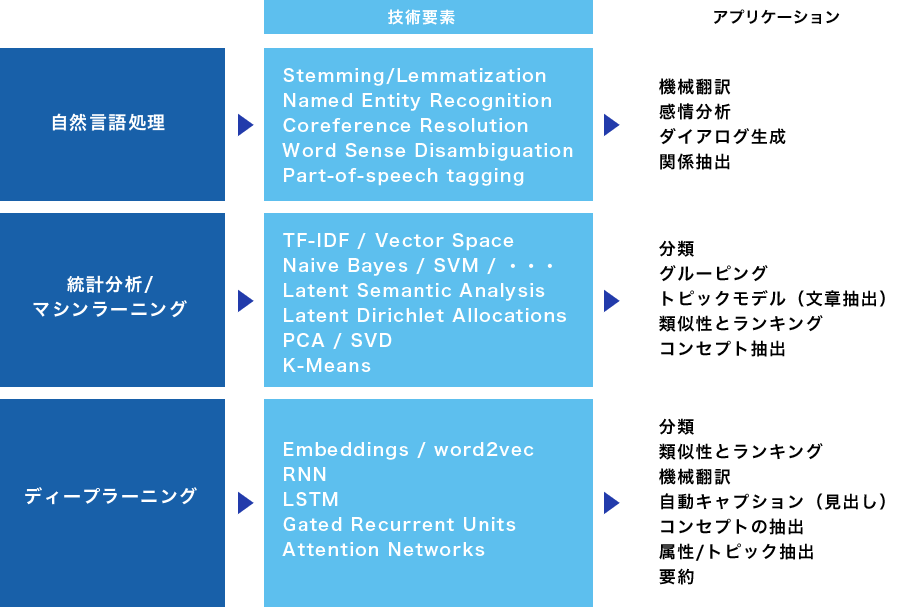 AI Application Use Cases
AI applications are expected to be used in a wide variety of industries.
Below are a few examples of AI application in "finance," "retail and distribution," and "medical and healthcare" fields, where the needs are particularly high.
We can handle projects in other industries as well. Please contact us for more information.
Finance
FAQs concerning Financial Product Proposals

Use of Chatbots to address FAQs related to financial product guidance significantly reduces human costs

Exchange Rate Forecast

Highly secure asset management can be achieved by allowing AI to learn and predict the movements of the foreign exchange market

Risk Assessment for Loan Review

In addition to traditional credit checks, AI can be used to predict the likelihood of an individual or company defaulting on its debt by looking at the entire life and huge digital footprint

Contract Management

Automation/Semi-automation of manual tasks to read and write legal contract information

Unauthorized Money Transfer Detection

Detecting multiple rules that are difficult for humans to discover from large amounts of data and predicting future data values

Credit Card Fraud Detection

Detecting increasingly sophisticated credit card frauds with high accuracy
Retail & Distribution
Recommendation System

Providing a personalized shopping experience through analysis of user behavior
Recommending/Proposing up-sell and cross-sell products to specific customers

Image Classification

Highly accurate identification of dynamic images and creation of predictive models

Identification of Similar Products

AI-based algorithms can be used to search for the most similar products in the same category. Input of product images facilitates search for similar products, thus improving customer purchase rates.

Product Classification by Image

Products can be grouped by giving input of product images. High-level categories of untagged products can be created automatically.

Deep Visual-Semantic Alignments

Deep Neural Networks (CNN and RNN) can be used to create predictive models that generate relevant captions for images.
This technology can be used to automatically generate product descriptions from images, eliminating a lot of hassle.
Medical and Healthcare
Medical Imaging

Detecting serious diseases and illnesses through medical image analysis. Use in POC for diabetic retinopathy, brain MRI scans, chest x-rays and ultrasound imaging.

Application in Medicine Prescription

With the use of voice-to-text conversion, AI can be used as a facilitator between physicians, patients and pharmacists to improve patient compliance

Automatic ICD Coding

Automation/Semi-automation of ICD coding through textual analysis of information on the relationship between terminological concepts in the field of clinical medicine

Demo available

Text/Image Analysis

Analyzing various data such as electronic medical records, papers and diagnostic images and using them for diagnostic support and secondary use in new drug development

Mental Health Care AP

In the light of the shortage of mental health professionals, AI-based mental health applications can be utilized to treat patients with mental illnesses and problems

Efficient Use of Hospital Resources

Analyzing patient flow during peak hours to prevent bottlenecks in urgent care