All-in-One
AI and Machine Learning Platform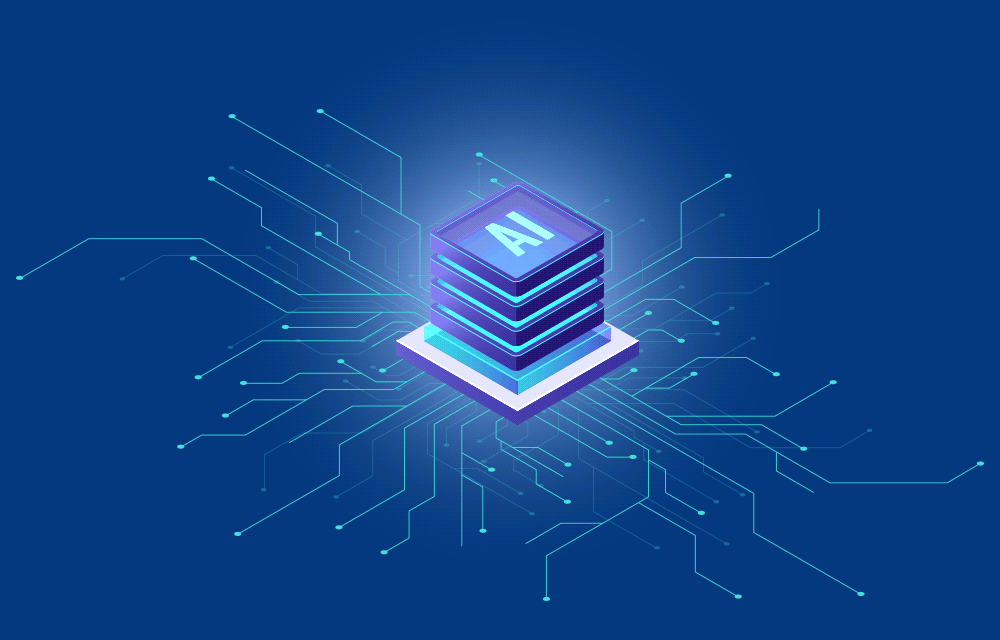 A Machine Learning Platform
to Promote the Use of AI and Machine Learning
Across the Organization
Dataiku is an all-in-one AI and machine learning platform that integrates everything from connecting to data sources, preparing data, and building AI and machine learning models to developing and operating analytical applications as a single solution.
Since the platform also supports no-code and low-code development, it can be used without knowledge of program code and can be operated intuitively with GUI (*1). This makes it easy not only for data scientists and data engineers with high expertise in data analysis, but also for general business users to access and analyze data with a simple click, and to incorporate AI into their work.
Users in different departments and roles across the enterprise can routinely and easily access data and AI on a single platform, enabling efficient use of data and AI across the organization.
Do you face
these issues when using AI?
Lack of human resources
to promote use of data and AI
Siloization of
tools and processes
between users in different departments and roles
Inadequate infrastructure
for safe and secure data utilization
across the organization
By combining the expertise of Dataiku and NTT DATA INTELLILINK,
we can solve various issues related to the use of corporate data and AI, and
provide a one-stop shop for efficient use of data and AI across the organization
.
Starting with building and operating data accumulation and analysis platforms for petabyte class big data, NTT DATA INTELLILINK
has been providing one-stop support from consulting to construction and operation for the implementation of infrastructure for various industries,
and has cultivated extensive knowledge through this over the years. In addition to providing Dataiku, we offer a system that includes data accumulation and analysis infrastructure.
Features

Dataiku Features

Dataiku has been positioned in the Leader Quadrant in Gartner's "Magic Quadrant for Data Science and Machine Learning Platforms" for two consecutive years (*2). As a platform for Everyday AI (*3), it has been providing assistance in the use of data and AI to a number of domestic and international companies.
Easy to use, even for users with
no technical expertise
It is possible to centrally manage AI and machine learning from start to finish, and to handle its operations using only a GUI. This makes it easy for business users without technical expertise to access and analyze data with a simple click, and to incorporate AI into their work. It also provides a function which reports the basis for prediction results of machine learning model and AI. It is also possible to support decision making using AI.
Improving Productivity through Collaboration
Since the platform supports no-code/low-code/full-code (visual recipes *4 and code recipes *5) development, all types of users from general business users with no technical expertise to advanced users working in technical fields can work together seamlessly on a single platform. This allows the integration and streamlining of tools and processes that were previously fragmented due to differences in job roles and technical areas, leading to increased productivity in the use of data and AI.
Streamline data preparation
It can connect to more than 40 different data sources as standard, allowing you to continue visualization and data preparation. In addition, the push-down architecture (*6) can accelerate processing of large data. It allows you to connect to any data source in the enterprise and efficiently prepare data for integration, processing, and transformation.
Enterprise-Level
Security and Governance
can establish the security and governance your enterprise needs, including history and progression of all data changes, dependency tracking, fine-grained access control to data projects, and auditing. This will safely accelerate the data utilization throughout the organization.
Functional overview

Overview of Dataiku Features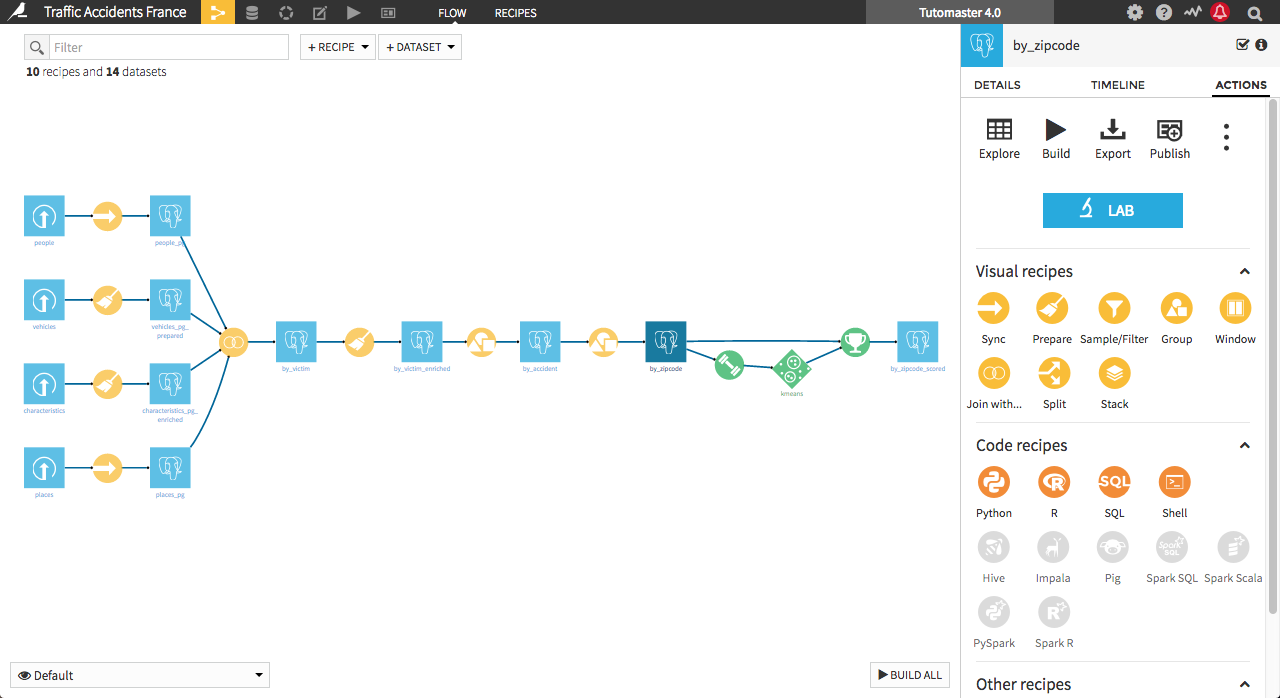 Dataiku Interface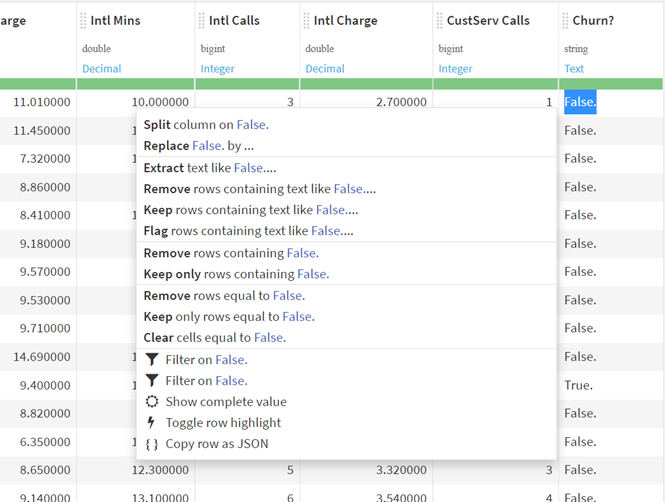 Data Preparation
Cleanse and transform (all with code, no code, or low code, depending on user preference).
Utilizing an extensive library of embedded processors, the system handles everything from simple data processing to advanced processing.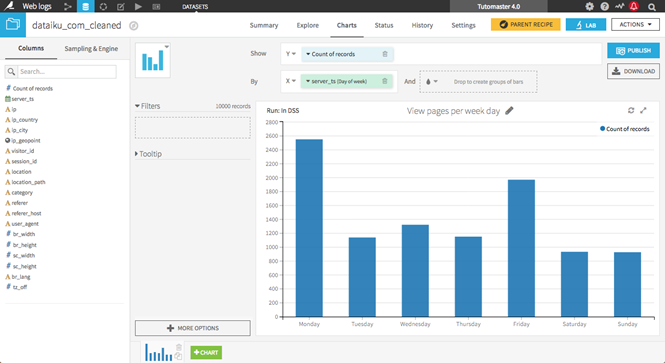 Visualization
Gain visual insights through built-in graphs and dashboards, or customize them using interactive Python, R, and SQL notebooks.
Quickly and visually analyze columns for a detailed view of your data, including distribution of values, auto-detected outliers, invalids or missing values and overall summary statistics.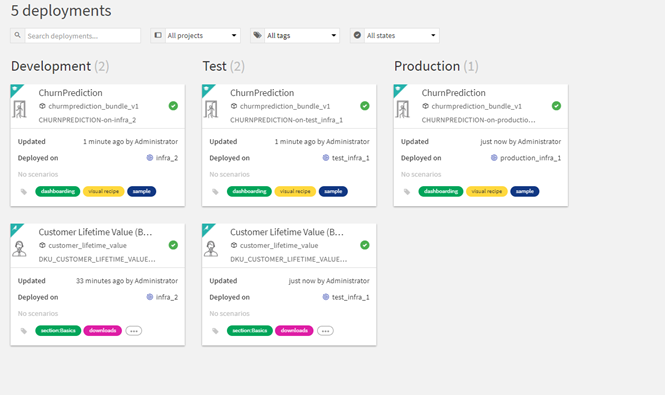 Governance and MLOps
Package all necessary elements from the design environment to execution in the production environment in project bundles.
Built-in data drift monitoring detects issues before they affect model performance.
Project planning and approval functions ensure quality and governance of production work.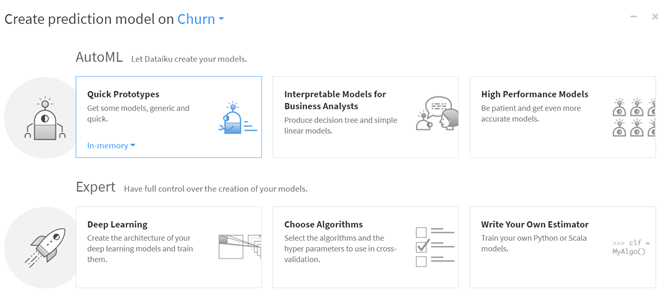 Machine Learning
Leverage AutoML, which is configurable and equipped with the latest machine learning libraries (scikit-learn, MLlib, XGBoost, TensorFlow, Keras, etc.).
Customize your code directly in Python or R to take advantage of advanced custom machine learning.
Advanced data scientists can use commonly used code notebooks and integrated development environments (IDEs) such as Jupyter, PyCharm, RStudio, and VSCode.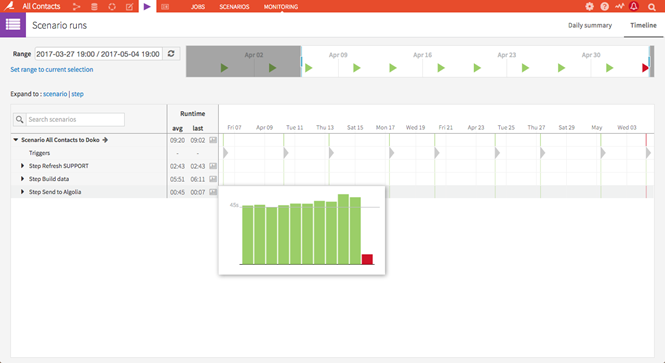 DataOps
Using Dataiku's visual flows and recipes, coders and non-coders alike can easily build data pipelines for aggregation, merging, and other transformations.
The built-in scheduler can be leveraged to automatically update dashboards and pipelines, eliminating the need for IT personnel to be involved in routine automation tasks.
Stakeholders can use dashboards, alerts, and project summaries to understand the activity, status, and health of projects in production.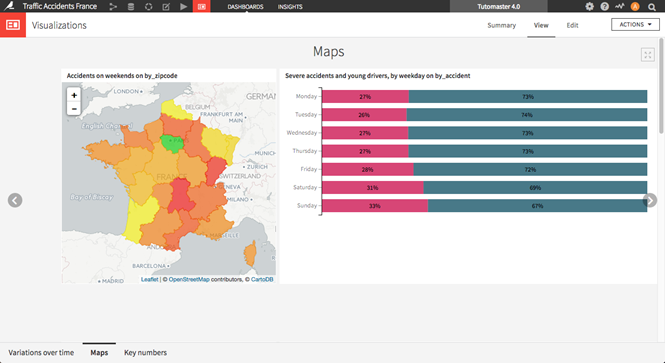 smartphone
You can leverage Dataiku's project logic to create custom web applications. Project logic allows business users and analysts to provide information and generate answers and insights in an interactive, on-demand fashion.
Leverage the built-in Dataiku dashboard or push data and results to key visualization platforms to distribute information to more people in your organization.
Lineup

Dataiku Lineup

Amazon Web Service, Microsoft Azure,

Runs on Cloud Services of Google Cloud Platform

Dataiku Cloud Stacks

On-premises and multi-cloud operation

Dataiku Custom

*Inquire separately for system construction and support, including data accumulation and analysis infrastructure.