INTELLILINK Database Migration Support Service for Oracle
We propose the best migration plan for your system.
This is a support service to ensure safe and reliable database migration during hardware upgrades, database consolidation, etc. With the recent increase in data due to rapid changes in the business environment, systems have become large and complex. Data migration has become a more time-consuming and sophisticated task than one might imagine. Migration needs are also on the rise. Database migration becomes necessary in situations such as the end of maintenance period of database or hardware, centralization of scattered DBs, etc.
Do not worry! Contact us first!
Are you in this situation?
Database and hardware support has expired
Want to move to a new system, but I can't stop the system
Wondering whether scattered DBs should be centralized to reduce costs...
NTT DATA INTELLILINK proposes optimal migration plans through its assessment service and provides assistance from advance preparation to migration and follow-up.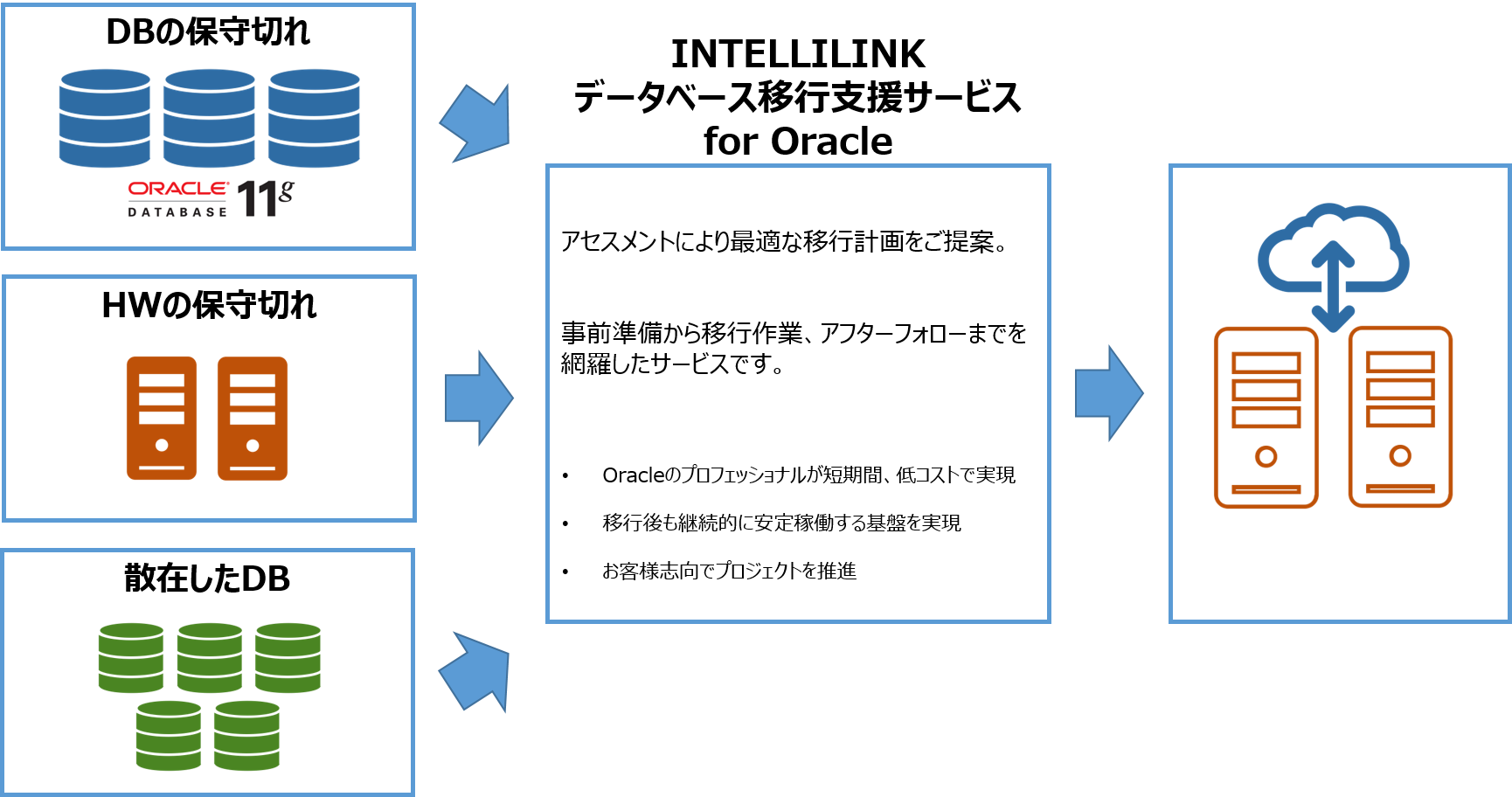 Examples of service applications
Upgrade of Oracle database due to end of support period

We provide assistance to clients who need to upgrade their current Oracle database due to the end of support period, in the most appropriate way.

Hardware upgrade

We propose the best methods to migrate the data to a new hardware in the event of hardware upgrade.

Database consolidation

We propose the best methods to migrate the data to the destination hardware for database consolidation.

Zero-downtime migrations and upgrades

Oracle GoldenGate allows database and hardware migrations and database consolidation in zero downtime. We can also support systems with different OS and database versions for the source and target sites.
*1 Oracle GoldenGate
Oracle GoldenGate is a product that allows you to replicate data and has more than 4,000 installations worldwide. By extracting changes made to the data from database logs (Change Data Capture), we provide a flexible and scalable real-time replication environment with minimal impact on existing systems.
Flow of service