INTELLILINK Database Periodic Diagnostic Service for Oracle
Are you facing any problem with Oracle Database operations?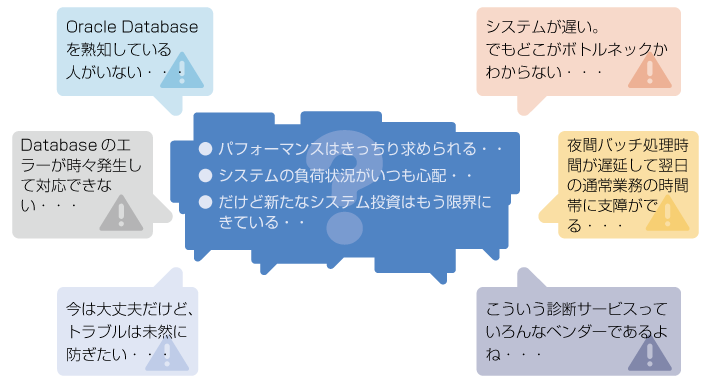 NTT DATA INTELLILINK will solve all your problems!
This is a product support integrated service that realizes stable DB operations by assisting with periodic DB diagnostics and problem resolution.
| 1: Collection | 2: Diagnosis | 3: Reporting | 4: Technical Support |
| --- | --- | --- | --- |
We collect diagnostic data from the Oracle Database to be diagnosed.
We use the collected data to diagnose the problem and compile a diagnostic report.
We present the report of the diagnostic results to the client. We propose solutions to the issues.
We will continue to provide technical assistance for the diagnosis if you wish. (*)

*If you do not have a maintenance service contract with us, you will be charged separately.

Strengths
Strengths
Strengths
Strengths
We use Oracle profiling tool to gather detailed information on DB operation status This serves as element for accurate diagnosis.
We regularly diagnose DB operation status, detect "signs" of troubles such as performance degradation, and propose appropriate advice.
We support any issues found in the diagnosis until they are resolved.(*)

*If you do not have a maintenance service contract with us, you will be charged separately.

You can rest assured because Oracle support engineers from NTT DATA INTELLILINK will take care of everything.
Service Diagnostic Items
DB time (breakdown of CPU time + other standby time)
Top 5 Event (Top 5 standby events)
SQL analysis (shared pool hit rate)
DB buffer cache (buffer cache hit rate)
Disk I/O wait time (user I/O wait time)
Top SQL (execution time, CPU time, physical reading order)
Number of physical read blocks
Number of lock connections waiting
Number of active sessions
DB parameters
*Oracle support engineers will examine the above diagnostic items and give proposal for improvement. We can discuss the type and content of diagnostic items.
Extensive support system
Performance tuning work
Design and sizing work
Implementation of improvements in the identified items
Numerical prediction of improvements in the identified items
Diagnosis from perspective other than Oracle Database
Diagnosis from a security perspective
Support for verification of actual equipment in our environment

Service Menu
Applicable version: Oracle Database 10gR2 (10.2.0) ~ Oracle Database 11gR2 (11.2.0)
*The contract is by instance basis.
| Menu | Services |
| --- | --- |
| Plan S | Up to two diagnoses per year (half yearly) |
| Plan M | Up to 4 diagnoses per year (quarterly) |
| Plan L | Up to 6 diagnoses per year (every other month) |
For each plan, the timing of diagnosis can be freely determined, taking into account the operational status of the system. Please contact our sales representative for a service price quotation.