INTELLILINK Oracle Engineered Systems PoC Services
As the volume of data handled by companies grows, it is necessary to verify in advance whether the concept is feasible and visualize the return on investment in order to enhance operations while making more efficient use of the data accumulated on a daily basis for business.
In order to assist customers in selecting the optimal IT system infrastructure, NTT DATA INTELLILINK offers a "Proof of Concept" (PoC) service that verifies performance using actual equipment prior to product installation by the customer as well as during the construction and maintenance phases by fully installing Oracle Engineered Systems products in our in-house Oracle Engineered Systems Lab.
Flow of INTELLILINK Oracle Engineered Systems PoC Services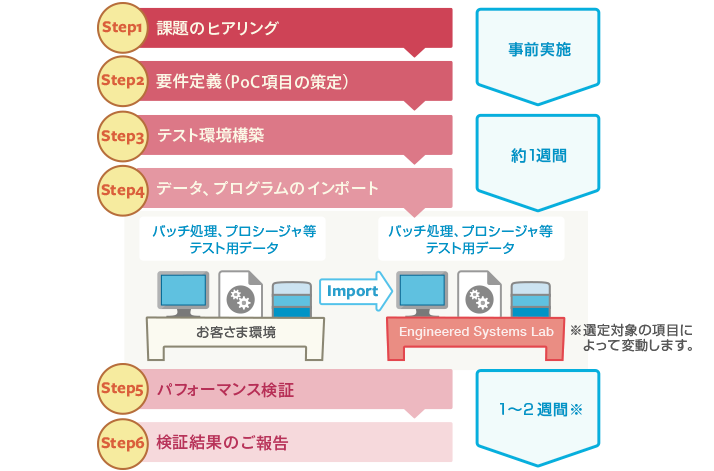 About Oracle Engineered Systems Lab
The Oracle Engineered Systems Lab actively offers a wide range of models such as "Oracle Big Data Appliance", "Zero Data Loss Recovery Appliance" for which verification environments are rare in Japan in addition to the typical models such as "Oracle Exadata Databese Machine", "Oracle Exalogic Elastic Cloud", and "Oracle Exalytics In-Memory Machine".
We support system optimization through "Proof of Concept" (PoC) service in which these actual equipment are used for preliminary verification.

Application Example (Oracle Exadata)
Case 1: Performance check before installation
In order to confirm whether system performance issues can really be solved, you can measure the performance using actual data and applications of the current system using actual Exadata equipment.
We will not only verify the requested settings, but also perform tuning based on our expertise, and submit a verification report including the comparison results with and without the tuning.
Process Name
Process Time
Current Environment
Exadata
Before Tuning
After Turning
Tuning Details
Data extraction
1 hour, 2 minutes, 44 seconds
4 minutes 7 seconds
25.0 seconds
Disabling INDEX
and parallel degree 24

Case 2: Verification assuming various applications
In addition to simple DB performance comparison, we also provide verification for the following applications.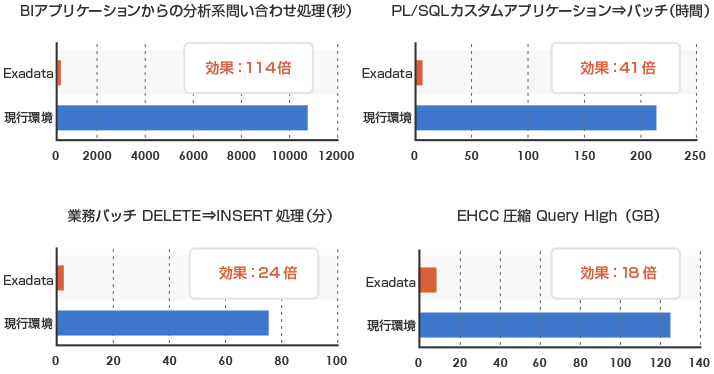 *There are many other examples of verification also. For details, please contact our sales office.
Case 3: Utilization in the construction/maintenance phase
This service can also be used for pre-verification and reproduction test during the construction and maintenance phases, which are difficult to perform in the customer environment.

*This is a best-effort service for customers who are considering installing the applicable products from us.