VMware
Product Overview

VMware vSphere is the leading virtualization platform for building cloud infrastructures.
vSphere enables users to virtualize, automate and optimize all the enterprise systems, including the server environment as well as storage and network, to achieve next-generation cloud computing.
Seven Reasons to Choose VMware

1. Unparalleled track record and high reliability

400,000 companies worldwide, 100% installations in Fortune 100
7,000 companies in Japan, 93% of the Nikkei 225 use VMware products

2. High consolidation rate and performance

Consistent high performance at both low and high consolidation rates
Hypervisor architecture for high consolidation rates
Memory management technology for high consolidation rates and stable performance

3. Effective use of existing assets

96 guest operating systems, broad hardware and software support
Easy migration of existing systems to virtual environments

4. Hassle-free implementation

Assistance in virtualization implementation from more than 1,200 sales partners and 5,300 certified engineers nationwide
Extensive knowledge on virtualization design and implementation available on our website

5. Easy and safe operation with standard functions

Intuitive standard user interface
Centralized operational management structure and excellent visualization capabilities
Other than virtualization, the following functions are also provided as standard features

Shared storage: vSphere Storage Appliance (VSA)
Replication: vSphere Replication
Security: vShield Endpoint
Backup: vSphere Data Protection (VDP)

6. Options according to "objective" and "budget"

High consolidation rate and superior functionality reduce capital costs and administrative costs
Capital costs can be reduced by selecting the right license for the right purpose

7. Enhanced solutions for various IT challenges

Desktop virtualization: VMware View
Disaster preparedness: Site Recovery Manager (SRM)
Cloud service delivery: vCloud Director
Main Products
VMware vSphere
VMware vSphere is the industry's most trusted virtualization platform for protecting company business.
With vSphere, you can reduce IT occupancy and maximize the use of your existing IT infrastructure.
Computing, network, and storage resources of a single physical machine can be shared by multiple virtual machines.
Visit the link below for key features of vSphere platform.
How to calculate licenses: In units of number of physical CPUs on the host to which vSphere is assigned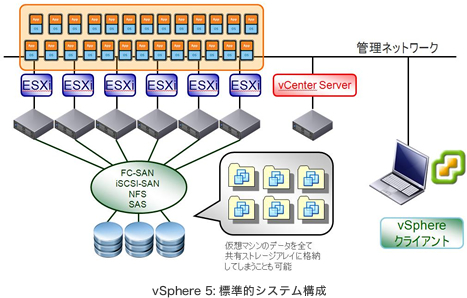 VMware vCenter Server
VMware vCenter Server provides a highly scalable, integrated platform for managing virtual infrastructure.
VMware vCenter Server (formerly VMware VirtualCenter) enables centralized monitoring of VMware vSphere environments for simplified, proactive management and reliable infrastructure.
Visit the link below for the main features included in vCenter Server.
How to calculate licenses: Per instance of vCenter Server (for the number of servers to be installed)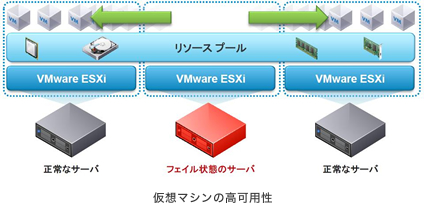 VMware vCloud Suite
vCloud Suite enables software-defined datacenter by pooling industry-standard hardware resources and running each layer of the datacenter as a software-defined service.
Create pools of servers, storage, and networks with dynamically configurable security, availability, and management services to meet the needs of any application. Take advantage of built-in self-service portals and catalogs, policy-based infrastructure and application provisioning and automated operations management.
Visit the link below for the main features included in vCloud Suite.
How to calculate licenses: In units of number of CPUs of all servers used in the vCloud Suite environment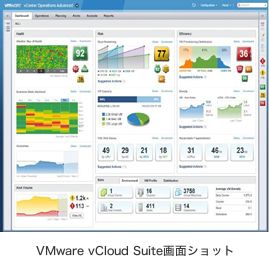 VMware vCloud Suite
VMware View brings the agility and availability of cloud computing to desktops and applications.
VMware View is built on VMware vSphere and delivers desktops from a single integrated platform as part of a cloud service. It also dynamically allocates resources, providing end users with a highly responsive and always-available usage environment.
Visit the link below for the main features included in VMware View.
How to calculate licenses: In units of maximum simultaneous connections connected remotely to virtual desktop
VMware Workstation
VMware Workstation is a virtualization software for desktop and laptop computers and supports a wide range of operating systems. It offers the best-in-class virtual machine architecture, environments for feature-rich desktops, and a host of value-added features.
Visit the link below for the main features included in VMware Workstation.
(How to calculate licenses: Number of PCs on which Workstation is to be installed x Number of Workstation users)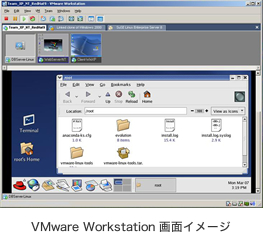 Configuration Examples/Case Studies
Related Information