ISO/IEC27001 Certification Service
We recognize the importance of information assets and propose specific information security and crisis management measures
While the use of IT is expanding, the scale and damage of security incidents are growing. Responding to security incidents only after they occur not only wastes significant time and money, but also has a major impact on business development such as loss of social credibility. For business promotion, an organized approach (ISMS) is required, wherein a system or framework to protect information assets in day-to-day operations is established, and countermeasures are periodically evaluate while implementing them.
About ISMS (Information Security Management System)
ISMS (Information Security Management System) is a system to build a security management system for people and organizations related to information assets necessary for corporate activities, and to increase corporate value by improving the security level.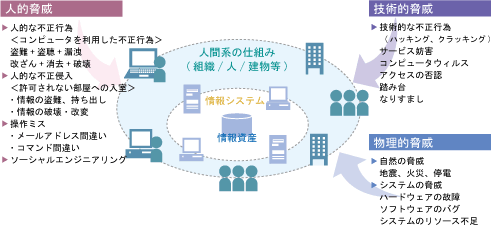 About the ISMS Conformity Assessment System
The ISMS conformity assessment system is a system in which a third-party organization evaluates and certifies business operators that appropriately implement security management systems and procedures for people and organizations related to information assets necessary for conducting corporate activities based on ISO/IEC27001.
Overview of the ISMS Establishment Process
To establish the ISMS, it is important to build a process that the concerned organization can operate while complying with the management standards. After establishing a direction and basic idea about information security, experts need to examine the methodology and means to establish a management framework that will function effectively.

Key Points for Establishing an ISMS Management Framework
In order to establish Information Security Management System (ISMS), it is important to familiarize the people and organization with the system. Appropriate reviews while evaluating the operational status will establish and strengthen security management.

Benefits of Certification
Objective confirmation of the appropriateness of information security management that has been addressed
Objective verification that the company has accumulated sufficient know-how in information security management
When we keep your information, we certify that this information is properly managed and handled.
Flow of ISO/IEC27001 Certification Service
PLAN
Phase
Do
Phase
Check
Phase
Action
Phase
Screening
Support
Conduct a survey of the current situation, establish a schedule, analyze risks, prepare a declaration of application, and develop manuals.
Thoroughly implement control measures based on the plan, including implementation of control measures, education, and awareness building.
Verify ISMS compliance and effectiveness by conducting audits.
Correct and improve ISMS based on the result of audits. Reflect it in actions and improvement of procedures.
Attend the review and conduct follow up on the results of the review upon request.