Single Sign-on SecureJoin
Centralized ID/password for web system
It is a single sign-on (SSO) solution that allows users to use multiple web systems with only one login in the environment where multiple web systems exist. Users can login to multiple systems with a single set of ID/password, which simplifies user authentication and reduces security risks. It also supports SSO with major cloud services*.
*Salesforce, Google Apps, Office365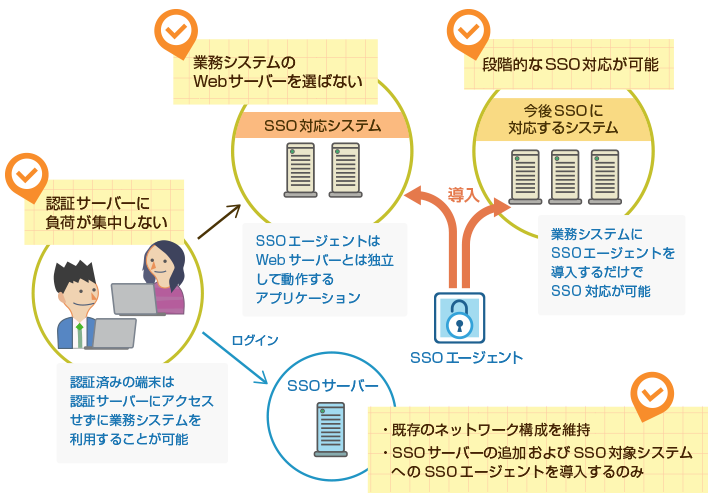 Key Features
By installing SecureJoin®, user management and access control of information systems can be centralized. Integration with existing user management systems and Active Directory is also possible. The main functions are as follows:
Can be integrated with Active Directory
Supports integrated Windows authentication
Can be integrated with the authentication function of existing business system (proxy authentication)
Supports SSO with the "agent-based reverse proxy method" that combines the two methods
Can be installed in environments without ID integration
Dual login warning function
Supports SSO authentication using mobile device
Supports multiple authentication methods
Can be integrated with cloud service
Benefits and Effects
Agent-based reverse proxy method The communication is distributed in the same way as the agent installation method so that bottlenecks do not occur. The communication between the SSO agent and the web server does not depend on the web server in principle.


The load does not concentrate on SSO server

Authenticated terminals can use the business system without accessing the SSO server.

Any type of web server for business systems

The SSO agent is an application that runs independently of the web server and does not depend on the type of web server on the system.

Gradual SSO is supported

Since SSO is supported simply by installing SSO agent in business system, the scope of SSO target system can be expanded gradually.

SecureJoin is a proprietary product of NTT DATA and your requirements can be implemented through flexible customization
Simple and reasonable fee structure that depends only on the number of SSO users
Strengths
Easy to install

There is no need to change the existing network configuration. It can be used by simply adding the SSO server and installing SSO agent on the supported system. Any type of web server for supported systems can be used.

Phased installation is possible

Since business systems installed with SSO agents are the target systems for SSO, a mixed configuration of systems subject to SSO and business systems not subject to SSO can also be used. Therefore, you can develop a phased SSO implementation plan that also considers schedule of the business system, such as installing SSO agent at the time of system renewal.

Can be used for small to large scale

The load does not concentrate on the SSO server, so it can be used for any scale.