Tampering Detection Tripwire Enterprise
With the IT system change control,
we implement tampering detection/PCI DSS/IT general control
Tripwire® Enterprise provides proof of compliance, enhanced security, and improved operational control through abundant functions (change audit, configuration assessment, and easy management) to maintain security for the wide range of devices that make up an open system.
Enhanced Security
Web tampering countermeasures
File integrity monitoring
Log integrity monitoring
Visualizing and maintaining security level
Proof of Compliance
PCI DSS
J-SOX (IT General Control)
Improved Operational Management
Change management work flow automation
Change history report output
Flow of Change Audit (Integrity Management)
Tripwire Enterprise manages system-wide integrity by monitoring changes, detecting changes, analyzing/filtering changes, and managing change history.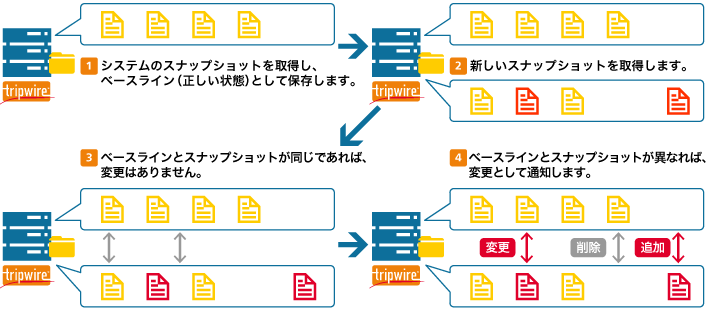 Enhanced security: Web tampering detection
When considering web tampering countermeasures, do you think that you can just restore the tampered areas from backups?
However, the culprit of the web tampering may have set up a back-door or malicious files to cause further damage in the next tampering. In addition to detecting and recovering from tampering, it is necessary to accurately assess the damage, determine the cause of the tampering, and take measures to prevent further tampering/intrusion.
Tripwire Enterprise is effective in preventing web tampering in five major steps.
Process from web tampering detection to handling

Proof of Compliance: PCI DSS Solution
By monitoring your system with Tripwire Enterprise, you can immediately see which settings and configurations are not in compliance with the PCI DSS(*), what actions need to be taken to comply, how and by whom changes were made, and whether those changes were approved.
It significantly reduces the risk of card holder data breach while maintaining a level of PCI DSS compliance at all times, even in the ever-changing system environment.
(*) PCI DSS (Payment Card Industry Data Security Standard) is a global security standard in the credit industry jointly established by five international payment brands JCB, American Express, Discover, MasterCard, and Visa to protect the credit card information and transaction information of cardholders handled by merchants and payment agents.
Maintaining PCI DSS compliance

PCI DSS Policy Testing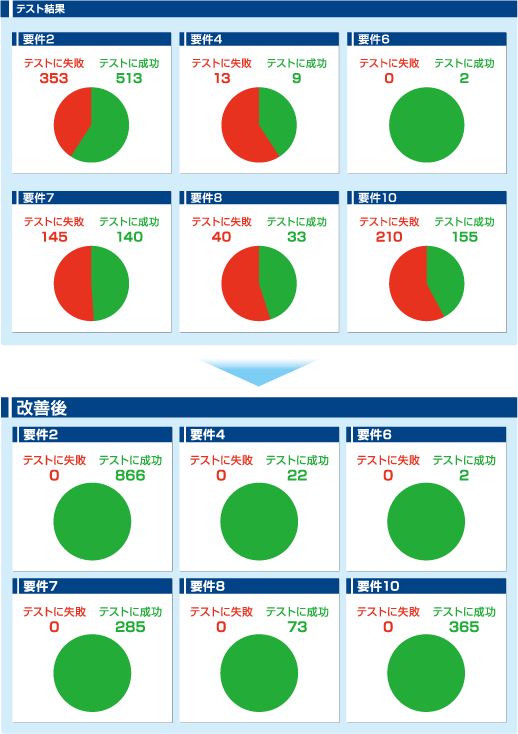 Wide Range of Monitoring Targets
Tripwire Enterprise monitors the entire open system. Tripwire Enterprise can monitor following targets.
*Supported platforms:
https://www.tripwire.co.jp/products/enterprise/platform/(Tripwire website)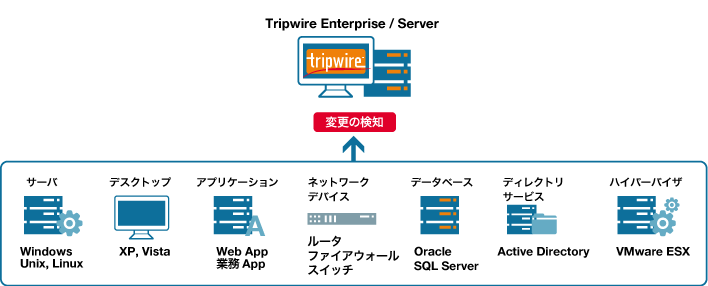 Flow of Tripwire Installation
Reliable support by a special security team
Utilizing the technical capabilities cultivated over many years as a "special security team" and a "certified examiner" of PCI DSS solution, which is one of the functions of Tripwire, we not only provide licenses, but also offer optimal proposals from construction to operation suitable for the customer environment.
| Prior hearing | Installation and Construction Support | Product Support |
| --- | --- | --- |
| We will check the issues the customer wants to address and the implementation details. | We will install the product and provide installation and construction support until a series of functions can be used. | We provide upgraded versions for product maintenance and respond to Q&A. |
Products Handled
Case Study
Denwa Housou Kyoku
Tripwire is a registered trademark of Tripwire, Inc.
*All other company names, product names, service names, etc. mentioned herein are trademarks of their respective owners.