Endpoint Security Solutions - Sophos Endpoint & Server Protection
Simple implementation of anti-malware for client PCs/servers
As many companies and organizations have recently introduced multi-layered security measures to protect against known and unknown threats, management has become increasingly complex and it has become a challenge to deal with them.
Sophos Endpoint & Server Protection offers advanced and abundant standard functions and comprehensive management is possible with a single license even on different operating systems. In addition to proven anti-malware technology, it also deals with advanced and latest threats.
Features of Endpoint & Server Protection
Rational antivirus measures
Endpoint & Server Protection supports more than 25 operating systems, the most in the industry. Even different operating systems can be managed from a single console. Since licenses are contracted by the number of users (or computers), there is no need for any contracting procedure even if the OS type changes.
Use of unauthorized software is prohibited
The application control function controls the use of software not related to the business. You can easily block unauthorized applications by category or application name.
Data is prevented from being taken out/carried in
It identifies devices such as USB flash drive by type (model number) and unique serial ID and controls their use.
It also controls data transfer (MTP/PTP) to devices such as smartphones.
Real-time threat countermeasures
It checks the database on the cloud for viruses before the definition file is reflected, and prevents access to dangerous sites.
Secure web browsing inside and outside the company
Category-based web filtering prevents access to websites that are inappropriate for business and reduces the risk of virus infection.
Vulnerability countermeasures through reliable patch application
The patch assessment function on client PCs/servers allows users to manage not only OS-related patches provided by Microsoft, but also third-party application patches. Specifically, it is possible to check the application status of more than 60 patches, including Adobe Reader/Flash and Oracle Java Runtime Environment (JRE), which have often become a target of attacks in recent years.
Linux/UNIX Protection
If a Windows-based virus enters a Linux or UNIX server that provides internal/external services, it can infect the PCs of Windows users who use the service. SOPHOS Server Protection uses unified definition files for Windows, Linux, and UNIX and protects servers from various viruses.
Example of infection spread when anti-malware products are not installed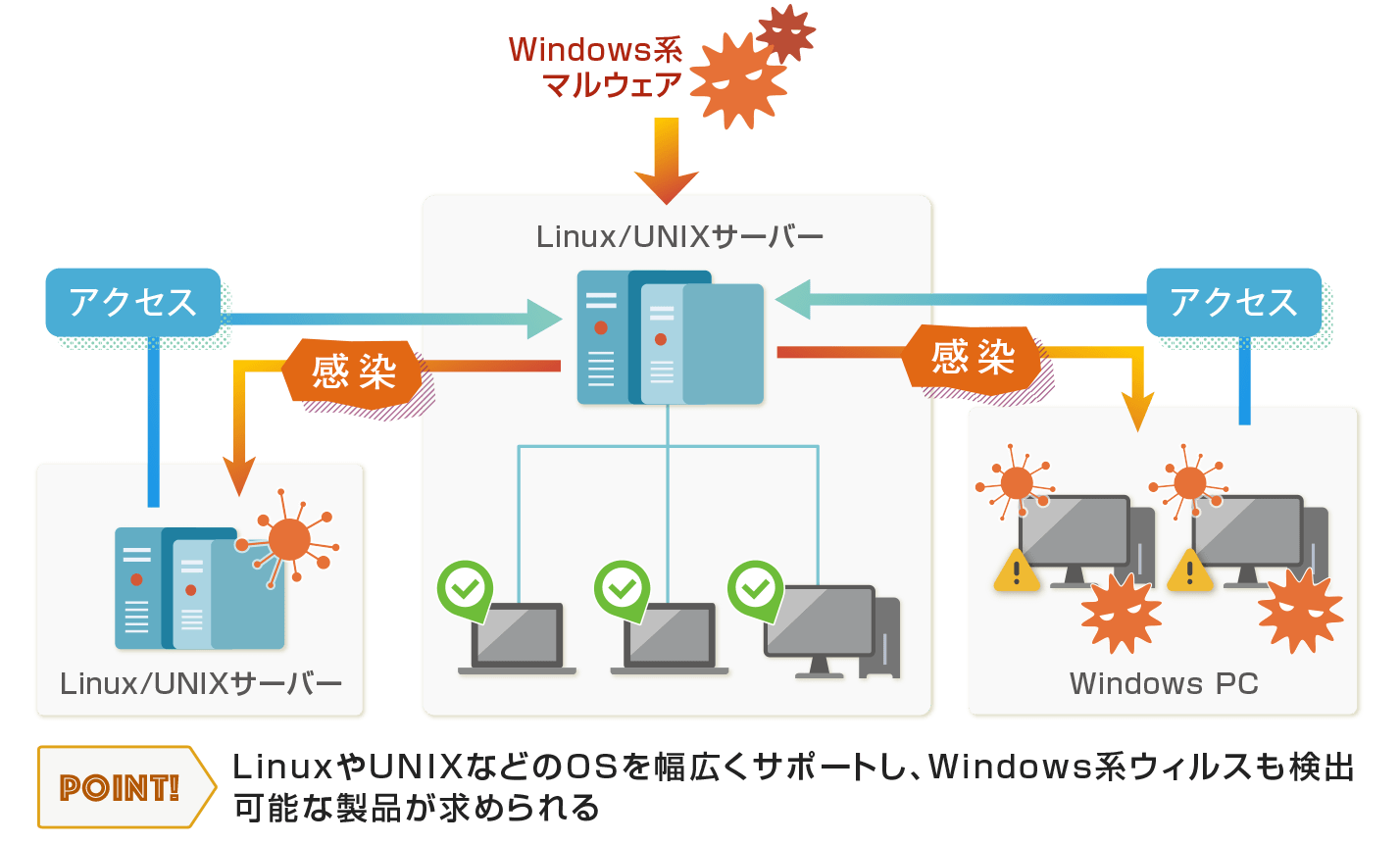 Multilayer Defense
SOPHOS Server Protection provides multi-layered protection against cyber attacks at endpoints.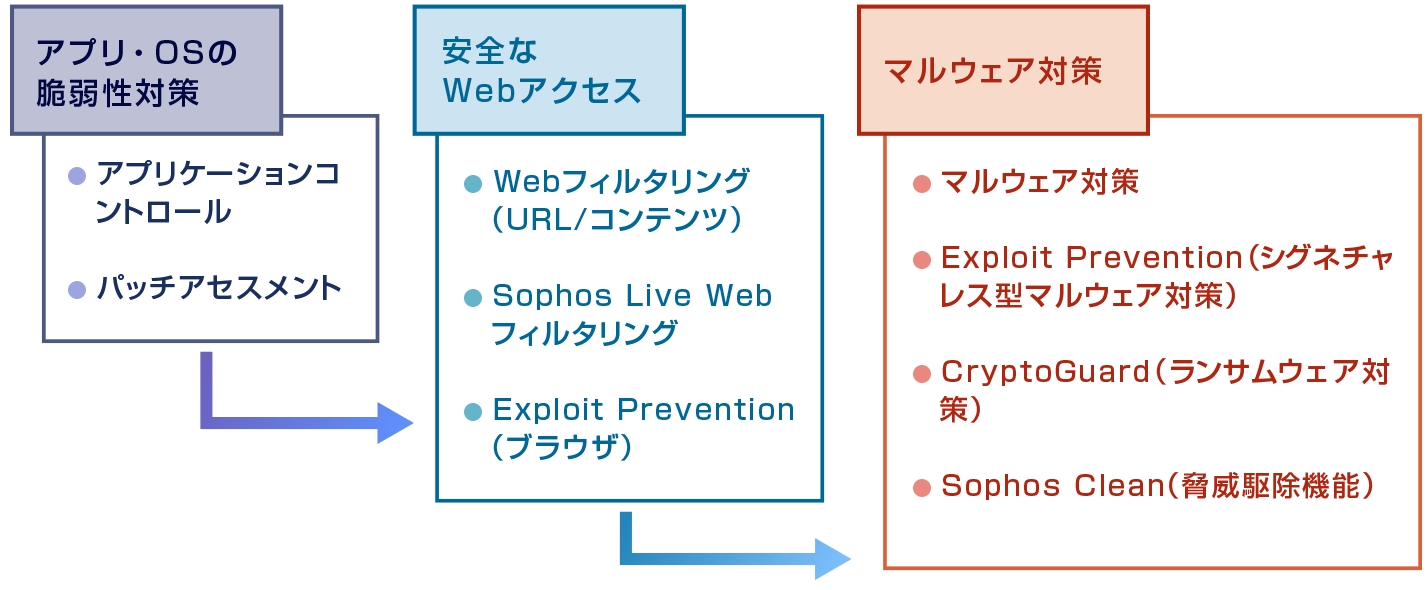 Functions of "Endpoint & Server Protection"
| | |
| --- | --- |
| Application control | Reduces the number of vulnerabilities themselves and prevents unexpected data leakage by controlling the use of applications that are considered unnecessary for business purposes. |
| Patch assessment | The cloud-based database SophosLabs evaluates the importance of security patches and can be easily assessed on the management screen. Detects client PCs/servers where security patches are applied and notifies the administrator. |
| Web content filtering | Category-based web filtering blocks or shows warning against access to websites that are not appropriate for business, regardless of where employees are located, inside or outside the company. This can be achieved using only endpoints and without using gateway products. |
| Sophos Live web filtering | Provides facility to instantly check the database of latest information on harmful sites held by the cloud-based database SophosLabs. Major browsers such as IE, Firefox, Safari, Opera, and Chrome are supported. |
| Sophos Live Anti-Virus | Even unknown threats that traditional signature-based antivirus cannot handle can be instantly detected by referring the cloud-based database SophosLabs. |
| Malicious Traffic Detection (MTD) | Blocks unauthorized command and communication in which the control server gives instruction to an infiltrated malware. This makes it possible to block the external transmission of files and information even if an unauthorized program enters the system. |
| Exploit Prevention* | Blocks exploit attacks that take advantage of vulnerabilities by detecting them by attack method and not by each malware. |
| CryptoGuard* | Automatically backs up files when encryption begins and automatically restores files if it is judged that encryption was done by a malicious process. |
| Device control | Prevents information leakage by identifying devices such as USB flash drive by type (model number) or unique serial ID and restricting their use. Also, as soon as the device is plugged into the PC, it is recorded in the event log. |
| Sophos Clean* | Cleanly restores changes made by malware (such as file writing, registry) that cannot be undone by ordinary anti-malware products. It also proactively blocks any attempts to reinfect before threat elimination is complete. |
*Endpoint Exploit Prevention, a separate add-on license, is required.
"Intercept X", a next-generation endpoint security solution that offers even stronger malware protection
Sophos Intercept X blocks unknown threats and cyber attacks by using different technologies suitable for the attack using deep-learning AI.
When used in conjunction with existing antivirus, next-generation security measures can be deployed at all layers.
*This is a cloud-based product.