VANADIS Authentication Infrastructure Solution
What is an Authentication Infrastructure Solution?
Today, with almost all business operations being systematized, it is becoming increasingly important to manage login IDs and passwords. Permission management, which controls data access permissions according to roles and responsibilities, has become indispensable for any corporation.
In such a situation, authentication infrastructure solutions allow for single sign-on through the central management of user information and permission information used in multiple systems deployed in-house, using a database.

Do you face these problems with your authentication infrastructure?
To address the following problems, we provide solutions making use of our experience and know-how cultivated through the construction of NTT DATA Group's in-house authentication systems.
Concerns related to ID management
User
Need to remember different IDs/passwords for each system
Heavy workload due to setting changes to be made each time the organization changes
Administrator
Data is updated every time the organization changes, making operations cumbersome
Human error occurs due to manual work
Want to set usage restrictions for operations based on permissions
Want to promote operational efficiency
⇒ Integrated Identity Management—VANADIS Identity Manager We propose VANADIS Identity Manager for integrated ID management.
Concerns related to user authentication
User
Need to log in afresh for each business system
Administrator
Want to implement single sign on, but not sure which method to adopt

Reverse proxy method
Agent installation method
⇒ We propose VANADIS SecureJoin for single sign on.
Integrated Identity Management—VANADIS Identity Manager
This solution can be flexibly adapted to the Japanese organizational structure and HR systems. Offers centralized management of IDs/permissions, including user information, permission information, and group information.
Enforcement of security policy
Facilitates ID management based on consistent policies
Improved user convenience
Manages only one pair of ID/password, reducing management burden
Reduces operational management burden
Automatic distribution of user and organization information, self-service of user information
Reduces IT investment costs
No need to develop account management and authentication functions
See the following page for more information on the functionality.
Single sign-on VANADIS SecureJoin
SecureJoin is a Web single sign-on product. The "agent-based reverse proxy method" can be applied to a wide range of applications and can be easily deployed and operated.
The load does not concentrate on SSO server
Authenticated terminals make it possible to use business systems without accessing the SSO server
No need to choose a Web server
SSO agent is an application that runs independently of the Web server
Gradual SSO is supported
SSO support is possible by installing SSO agent for a business system
Existing network configuration is maintained
All you need to do is add SSO server and install SSO agent on the system for which SSO is to be implemented
Options

  Authentication integration with major cloud services

Using a cloud GW enables SSO support even for cloud services for which installation of a separate SSO agent is difficult
See the following page for more information on the functionality.
Case Studies
VANADIS is used by customers from a variety of industries.
| | |
| --- | --- |
| Main Industries | Public offices, local governments, insurance/financial industry, manufacturing industry, telecommunications industry, advertising agency business, major SI business |
Highly reliable software which is in operation for over 10 years
We have a proven track record of deployments for large scale clients managing 450,000 users
As each user is billed separately, it is possible to deploy the solution with a budget suitable for the scale of your business
System configuration diagram
User and permission information is managed centrally (single repository), and information is provided to each business system through various interfaces (multiple interfaces) to achieve smooth integration with various servers.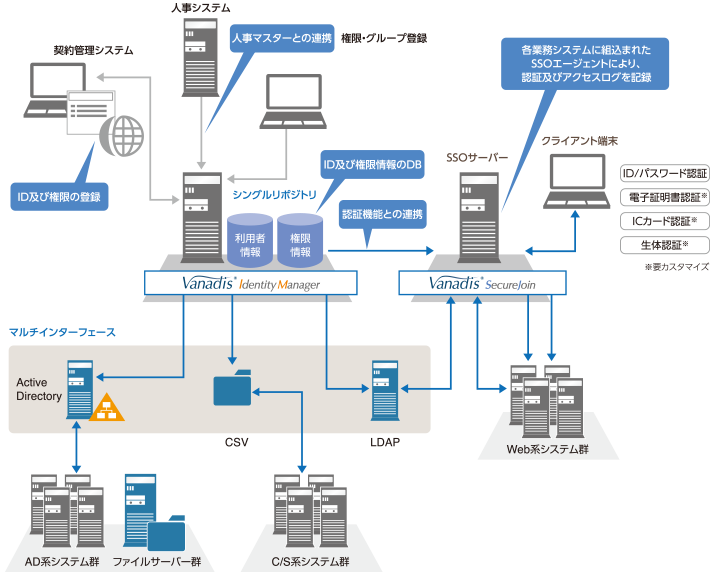 Material Download
VANADIS Authentication Infrastructure Solutions Catalog
Introduction to VANADIS Authentication Infrastructure Solution