INTELLILINK Zero Trust Security Service
We propose the "Zero Trust" model of security measures to address the new challenges in cybersecurity faced by companies and organizations amidst the demand for reforms in work styles, new lifestyles, etc.
Examples of New Challenges in Cybersecurity
Safe telework practices
We would like to review the measures necessary to protect confidential information accessed from outside the company and from terminals used outside the company.
Secure use of cloud services
We wish to address the risk of information breach arising from inappropriate use of cloud services (shadow IT) that the information systems department is unaware of.
Migration from VPN (Virtual Private Network)
The IP addresses of VPN devices are open to the outside world and thus vulnerable to attack; we wish to address security issues such as the vulnerability of the devices themselves, as well as issues concerning communication stability and scalability.
Unified security policies for headquarters, branch offices, overseas offices, etc.
We want to apply a unified policy to raise the level of security to a certain standard, which varies from location to location.
"Zero Trust" Model
Zero Trust (Zero Trust Network, Zero Trust Architecture), which, as the term implies, means "trust nothing," is a security concept in which any access to corporate resources, both inside and outside the network, is verified before being granted. Unlike the conventional model of defending at the boundary between the company's own network and the Internet (outside the company), the system allows operations to be conducted "securely" from anywhere at any time.
Steps to achieve Zero Trust Security
In implementing security measures based on the Zero Trust Model, we provide comprehensive support for clients' security measures - from sorting out current issues, proposing services and products necessary to solve them, to implementation and post-implementation operations.

Organizing Issues
Identifying the configuration of current security measures, as well as identifying the security issues and requirements.
Service Selection
Selecting and proposing services to be implemented to achieve the ideal security image. *Solutions are selected from our product lineup.
PoC
Assistance in the design and validation of the selected service/product for implementation.
Full-scale implementation
Assistance in the implementation of the selected service/product.
Operation and Monitoring
Operational support and security monitoring of the installed products.
Zero Trust Security Compliant Solutions
Three technical elements to achieve Zero Trust
The technical elements required to achieve the mechanism for providing security independent of device and user location is categorized into three perspectives.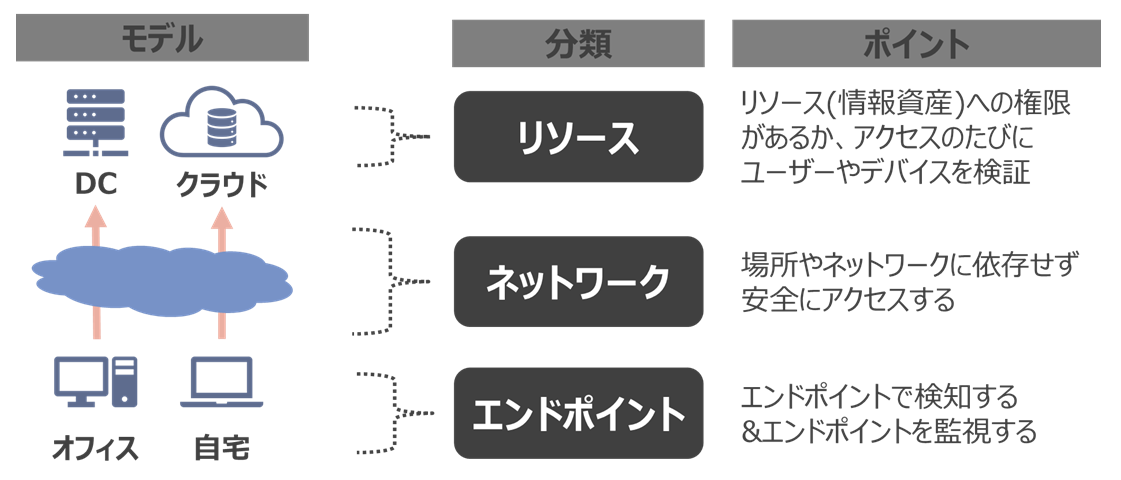 Solutions based on three technical elements
The three technical elements of resource, network, and endpoint and their compliant solutions are combined and applied according to client's requirements.

*Inquire separately to know whether certain products can be linked and how.
* "Compliant Solution" is an example. Contact us for inquiries concerning products other than those listed below.
-
IDaaS is a service that provides ID management and authentication based on the cloud. In addition to the basic ID management requirements of conventional Active Directory (AD) and LDAP Server, we provide single sign-on (SSO), multi-factor authentication, access control, and other functions for convenience and security not only on-premise, but also for cloud services (SaaS).
[Network] Private Access: SDP (Software Defined Perimeter)
SDP is a security mechanism of building a network perimeter via software and check, centrally control and manage all the access conditions to data for each user and device. The application server-side connection is invisible to the outside world, and no connection is made until the user and device are authenticated and authorized, ensuring a high level of security without relying on physical boundaries.
[Network] Cloud Control: SWG (Secure Web Gateway)
SWGs inspect web communications in the cloud (web proxies) and perform many functions; typical function being filtering URL to control access to specific websites. In addition to security, the system automatically determines where the access is coming from and establishes the appropriate access route. If you are connecting from Japan, you will be guided appropriately to a server in the Japanese cloud, and if you are connecting from the U.S., you will be guided to a server in the U.S. cloud, allowing for smooth connections without communication delays.
[Network] Shadow IT Countermeasures: CASB (Cloud Access Security Broker)
CASBs can monitor access to the cloud services you use and allow you to use certain cloud services, but only the functions you need within those services. This is an effective countermeasure against so-called shadow IT, which is the use of unapproved PCs or smartphones for business purposes or unauthorized cloud services in a company or organization.
[Endpoint] Mobile Device Management (MDM)
MDM is a system for mobile device management, which can be installed to remotely manage multiple mobiles. MDM helps prevent the installation of unauthorized apps and force OS updates, thus avoids the risk of mobile devices being exposed to malware infection and other threats. MDM also includes a functionality to remotely delete information from a mobile device.
■Compliant Solution
[Endpoint] Data Management: DLP (Data Loss Prevention)
DLP is a security tool to prevent information leaks. Unlike log management systems, which monitor users who access the information, DLP monitors the data itself to protect confidential information. By restricting the taking out and copying of specific data, it is possible to address misuse and unauthorized access by authorized legitimate users.
[Endpoint] Terminal Security: EDR (Endpoint Detection and Response)
EDR is an endpoint security solution to detect cyber threats like by targeted attacks and ransomware. Dedicated agent software is deployed on endpoints (PCs) to capture logs at all times. The acquired logs can be analyzed to detect traces of suspicious behavior so that problems can be addressed before they become serious.
Log Analysis
In the zero-trust model, the principle is that only those that have been confirmed as safe are allowed access to the system. To achieve this, a system for collecting and analyzing log information is required, such as SIEM (Security Information and Event Management), which integrates and analyzes distributed logs in a centralized manner, or UEBA (User and Entity Behavior Analytics), which automates the analysis and detection of suspicious activities.
Related Information
Columns/Article Contributions
[Mynavi News] Why Zero Trust Now?
[@IT Publication] Special Feature: Integrating Security and Networks with "SASE" Using the Cloud (2)
* These products or services are only available in Japan.
INTELLILINK Zero Trust Security Service
INTELLILINK Zero Trust Security Service