ADM (Application Development)
Globalization of business by Japanese companies has been increasing in recent years. We support Japanese companies in the development of applications for global support and service collaboration through our global delivery system, which has a wealth of experience in this area.
We support waterfall and agile development methods.
Features of ADM (Application Development)
Our specialists are capable of working with customers to optimize development processes and applied technologies by providing consulting services, starting with the definition of requirements.
We have a deep understanding of Japanese business practices and methodologies as well as the processes in the United States, Europe and Asia in general. We are able to implement global business arrangements originating from Japanese companies with excellent support systems.
We can propose optimal system in cooperation with a large-scale development center in India, as well as development centers in other countries.
One of the largest apparel companies in Japan has successfully expanded its global operations through the development and maintenance support of our e-commerce system.
This system manages many online stores in many countries, different currencies, tax systems, and languages, and supports a wide range of client devices, including everything from PCs to the latest smartphones. Outside the retail industry, we are also steadily building our track record in foreign exchange trading, digital advertising, in-flight sales, and education.
Project Structure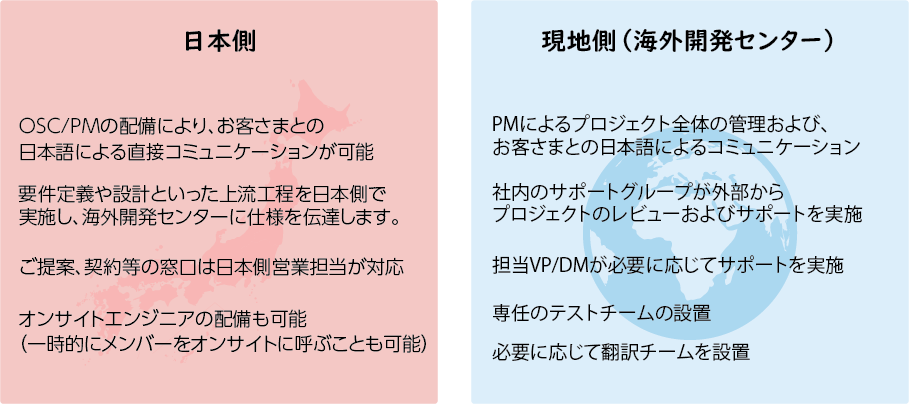 Supported Technologies
We can propose application development using a wide range of technologies by leveraging the strengths of our overseas offices.
We have a huge pool of engineers, especially in JAVA and .NET, and we can provide a wide range of OS, not only Linux and Windows, but also mobile OS (iOS: iPhone/iPad, Android, Symbian).
The number of people experienced in NTT DATA Group's proprietary technologies (TERASOLUNA and intra-mart) is gradually increasing.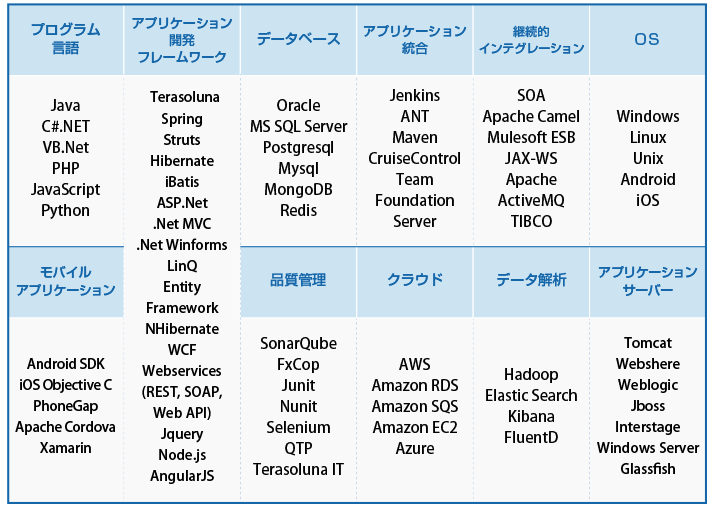 We also manage human resources by category and conduct internal processes twice a year to manage the skills of our members.
 
Activity
AM/DM
PM
PL
SSE
SE
Project
Management
Understanding of Processes
○
○
○
○
△
Estlmation
Review
○
○
△
△
Planning/Scheduling
Review
○
△
 
 
Measurement
Review
○
○
△
 
Control
○
○
△
 
 
Client Communication
Review
○
○
△
 
Documentation
Review
○
○
△
△
Proposal Writing and Sales Support
○
○
 
 
 
Technical
RA/Acceptance Test Case Writing
Review
○
○
△
 
Design
Review
Review
○
△
 
Cording
 
 
Review
○
○
Test Case Writing (Unit/Integration)
 
Review
Review
○
○
Unit and Integration Testing
 
 
○
○
○
Application Testing
○
 
○
○
△
Impact Analysis
 
Review
○
○
○
R&D and Troubleshooting
 
○
○
○
○
Soft Skills
Written Communication
○
○
○
○
○
Verbal Communication
○
○
○
○
○
Sharpness in thinking
○
○
○
○
○
Creativity
○
○
○
○
○
Mentoring Capabillity
○
○
○
△
 
*DM: Delivery Manager, PM: Project Manager, PL: Project Leader
*SSE: Senior Software Engineer, SE: Software Engineer