VOISTAGE Partner and Partner Recruitment
We are a partner company of NTT DATA INTELLILINK Corporation. We propose and build various CTI systems using VOISTAGE products. Feel free to contact us for product purchases, system development, and consulting. (As of February 1, 2022)
Hokkaido, Tohoku
Kanto
Tokyo
Chubu, Hokuriku
Kansai
Chugoku, Shikoku
Kyushu
Information about VOISTAGE Partner Program (VAR Contract)
From USE to SPREAD.
Make VOISTAGE solutions your business tool!
VOISTAGE Partners, as the name suggests, are partners that go beyond the framework of a sales agent to provide total system integration from planning, development, construction, maintenance, and operations, rather than simply selling products. Trust VOISTAGE products and stay assured!
What is the VOISTAGE Partner Program (VAR Agreement)?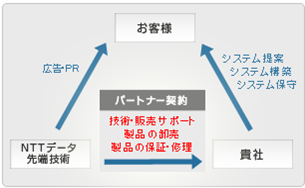 VOISTAGE products are sold to customers by VARs (value-added resellers) who have entered into partner agreements with NTT DATA INTELLILINK Corporation. VOISTAGE partners are not simply 'sales agents' but are truly our 'business partners' who provide high-quality system integration for CTI systems using VOISTAGE products. They are involved in planning, design, construction, maintenance and operations.
Advantages of having VOISTAGE Partners
VOISTAGE partners receive a variety of benefits and provide a complete support to your sales activities.
Purchase of Products

We offer you VOISTAGE products at wholesale prices.
*1 There are no commitments about sales volume, but wholesale prices are applied based on sales volume.

Technical Support

We provide strong technical support with a wide range of support services.

Online Support

Online answering service via e-mail and fax. (Maximum of 30 services per year)

Training Support

You are invited to visit our company for technical training, guidance and education. (Free of charge for up to 3 people at one time)

Sales Support

We provide a wide range of support and a strong sales force.

On-site Support

We arrange company visits to provide sales consulting and information. (if required)

Accompanying Support

We accompany your customers to explain products and conduct sales demonstrations. (if required)

Customer Referrals

We provide information about customers who make inquiries to us. (if required)

Commercialization Support

We strongly support the sale of proprietary packaging systems, and can even sell them as VOISTAGE-branded packaging systems.

Sales Promotion Support

We create sales opportunities through a three-dimensional media mix, including sales promotion tools, exhibitions, and advertising.