VOISTAGE Multimedia Box VS-401LB, VS-2301LB
The VS-401LB, VS-2301LB, a network-compatible telephony box with a LAN interface, is now available in the VOISTAGE multimedia box. The VS-401LB and VS-2301LB are compatible with virtualization/cloud platforms, enabling flexible system configurations and reduced server costs for CTI systems.

Compatible with three high-quality speech synthesis engines
As a multimedia box speech synthesis option, you can choose from 3 high-performance speech synthesis engines based on human voice (VoiceText version / AITalk version / Finespeech version). In addition, maintenance can be handled through a single point of contact along with the multimedia box, eliminating the need to separate maintenance and operation.

Equipped with a voice recognition function that is ideal for IVR systems
It can recognize voices spoken by unspecified speakers in real time and with high accuracy. It supports standard features such as "N-BEST" which can notify the application of multiple candidates (configurable) in one recognition, and "word spotting" which judges unnecessary words in conversation such as "um" and recognizes only specific keywords.

Supports operation in virtual/cloud environments
By adopting a LAN interface, it is possible to build a CTI system that supports virtual servers and cloud environments on the same network. Together with other business systems, it contributes to further physical server consolidation and downsizing of the entire system.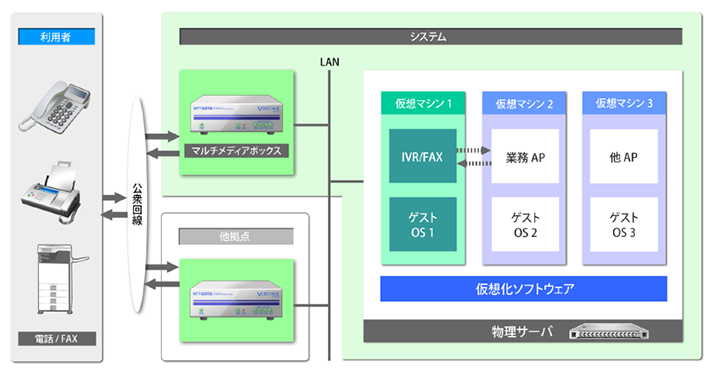 Flexible and highly reliable system configuration with distributed and redundant configuration
Since a distributed CTI system can be built on the same network, a flexible system configuration is possible, such as installing only the multimedia boxes at each location and using the area code of each location while installing the server at the data center. In addition, since up to eight multimedia boxes (three for the 2301LB) can be connected to one server, redundant servers and multimedia boxes can be quickly switched between operational and standby machines in the event of a failure.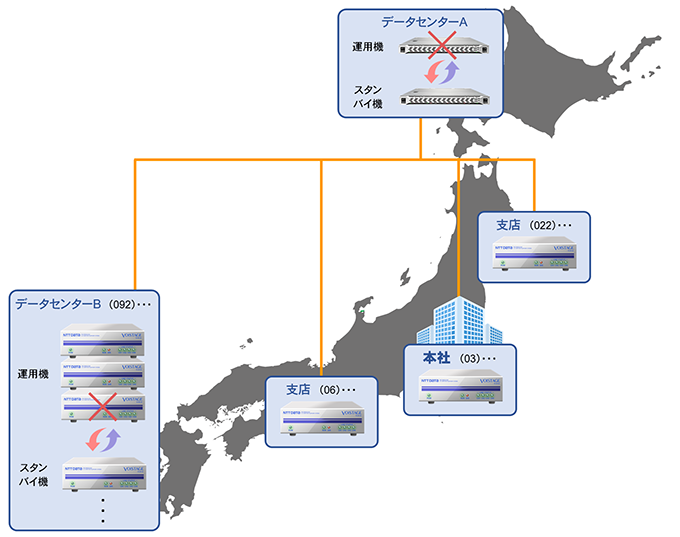 Service of warranty for repairs

Functions/Specifications
 
VS-401LB
VS-2301LB
Line interface
Applicable lines
Analog lines (4 lines)
INS-Net 1500 lines (1 line)
Polarity reversal
Detect functionality
Caller ID
Detect functionality
Dialing
DTMF tone
16 digits 0-9, *, #, ABCD standard
Signal Level
Compatible with NTT line network
Pulse
0-9
Voice function
Data rate
PCM8:64kbps、PCM16:128kbps、μ-law:64kbps
Dial pulse recognition
Automatic detection and recognition of DP-10/DP-20/DTMF after line connection
Voice recognition
Voice recognition engine: Vrec2 included (made by NTT DATA Corporation), continuous speech recognition of unspecified speakers, maximum of 1,000 words simultaneously recognized x 4 consecutive words, maximum of 500,000 registered words, overspeech recognition
Tone detection
DTMF
16 digits 0-9, *, #, ABCD standard
Minimum Pause 30ms
Single Frequency
Detection
Capable of detecting CNG and CED in FAX signals
FAX function
Communication speed
33600/31200/28800/26400/24000/21600/19200/16800/14400/12000/9600/7200/4800/2400bps (auto fallback possible)
Other person on the line
Facsimile machine compatible with SuperG3 standard or G3 standard
Image Size
A4, B4, A3
Compression method
MH, MR, MMR, JBIG
ECM Function
Support
Scanning line density
Normal: 200 x 100 dpi
Fine: 200 x 200 dpi
Super Fine: 200 x 400 dpi
Dimensions and weight
External dimensions H x W x L (mm)
135×40×210
200×40×270
Weight
990g
1580g
Connection
Host Interface
LAN (100Base-TX/1000Base-T)
Power supply conditions
Operating power supply
AC100V 50/60Hz (must be used in Japan)
Power consumption
6W
Power cable
Power cable length: 1.5m Power plug shape: 2P
JATE Application Number
Acquiring
A15-0067001
VCCI
Class A information technology equipment
RoHS Directive
Conformed
Price (excluding tax)
JPY 598,000
JPY 2,490,000
Maintenance Service Price
(Annual, excluding tax)
JPY 80,000
JPY 350,000
Appearance and Part Names
Front surface
Back surface
Optional
Rack Mount Kit
Three VS-401LB units and two VS-2301LB units can be mounted in an EIA 19-inch rack (1U height)
Speech synthesis option
You can select from VoiceText (HOYA), AI Talk (AI), FineSpeech (Animo)