Data Replication (Oracle GoldenGate)
About Oracle GoldenGate
Oracle GoldenGate is a product for data replication with over 4,000 implementations worldwide. By extracting changes made to the data from database logs (Change Data Capture), we provide a flexible and scalable real-time replication environment with minimal impact on existing systems.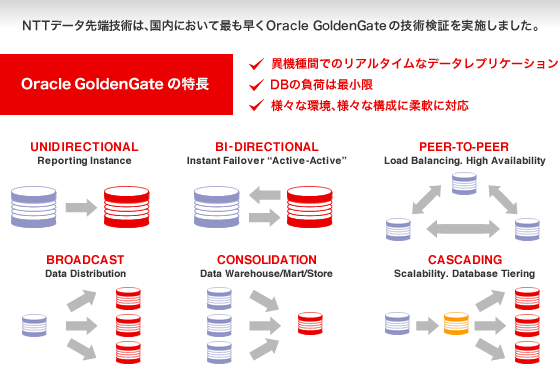 Features of Oracle GoldenGate
Key Features
Initial data loading to prepare a table of target site
Data replication to transmission changes at the source site
Data conversion, mapping, and filtering
DDL synchronization to propagate schema changes at the source site
Monitoring the operational status of GoldenGate
Operation Process
It captures change information from the REDO log file, converts it into a Trail file format for transfer, and transfers it (Data Pump). Since the data can be compressed and sent, the size of the transferred data is very small. Then, on the target DB side, it reads the change information from the Trail file, converts it to SQL, and applies it to the DB (Replicat). This method enables high-speed data transfer without overloading the DB.

Advantages of using Oracle GoldenGate
Migration and version upgrade with zero downtime

The database and hardware can be migrated with zero downtime. It also support systems with different OS and database versions of the source and target sites.

Disaster recovery and data protection at low cost - ~ Improved business continuity ~

Using it in place of storage mirroring function, the cost of a disaster recovery environment can be reduced. Also, line costs can be reduced by transmitting changes in data by transaction.

Data integration and load balancing

Data distributed across operations can be integrated in real time. Conversely, by distributing data, a load-balancing environment can be created to improve system performance and ensure stable operation.

Use for real-time BI

Since the database can be replicated in almost real time, it is easy to add a read-only database for BI. In addition, the data replication feature enables real-time BI that allows analysis of the current situation.
Nonstop database migration using Oracle GoldenGate
IBM virtual storage (Storwize V7000) and the latest Oracle technology
We offer non-stop database migration combining (GoldenGate).
Installation Effect
Migration achieved with minimal system downtime
Migration achieved with less load on running production system
Migration enables reuse of existing resources