Oracle Cloud Infrastructure for Highly-Secure Environments at Low Cost
As the demand for cloud infrastructure increasing these days, the world is paying more attention to security measures. Oracle Cloud Infrastructure is a cloud service of Oracle that implements highly-secure environments at low cost. If you are considering moving to the cloud and have security issues, please consider Oracle Cloud Infrastructure.
Are you considering Oracle Database migration to the cloud and facing any of these issues?
Require advanced security measures to prevent internal fraud and human error
Concerns about migration to the cloud from a security perspective
It is difficult to secure budget for security measures
It is difficult to select and combine security tools
Comprehensive measures with multi-layered defense are important to strengthen security
Multi-layered defense is a security policy that combines multiple features to prevent threats. Multi-layered defense provides countermeasures against external intrusion as well as countermeasures against internal crime and intrusion by outsiders into the network. Many cases of confidential data leakage due to unintentional negligence or insider actions are occurring, and nowadays security measures only against external attacks are not sufficient. Customers who handle confidential information in particular need a multi-layered defense that also focuses on countermeasures against internal information leaks.
● Example of a security incident that could be caused by internal fraud or human error
| | |
| --- | --- |
| Internal fraud | System administrator employee has takes out and misuses the confidential information. |
| Unintentional negligence | The employee takes out confidential information to work from home and leaks confidential information by working on a PC. |
---
However, the cost of security becomes enormous when trying to achieve a multi-layered defense considering all layers. In addition, many things such as selection of tools and security configurations need to be considered to achieve a secure environment. Security measures seem expensive and difficult...Many people may think so.
---
Implementation of Multi-Layered Defense Environment by Data-Centric Security Measures of Oracle Cloud Infrastructure
You don't need to design and implement complex networks and security tools. Multi-layered defense using security features of Oracle Cloud Infrastructure can provide data-centric security measures. This protects your valuable information from both external and internal attacks.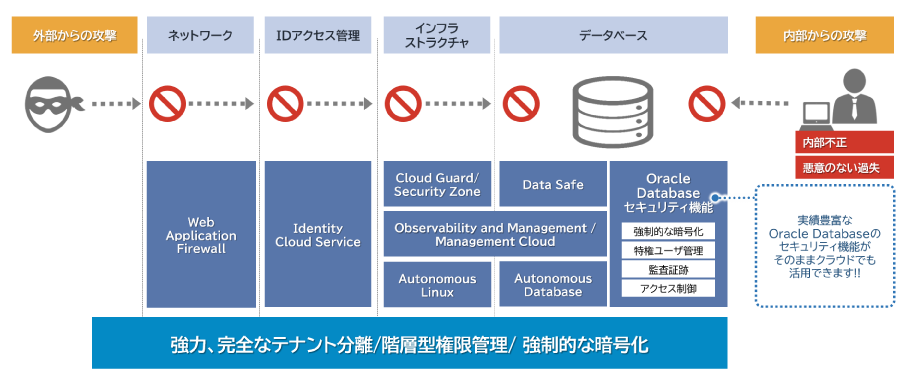 ---
External attacks
Oracle Cloud Infrastructure protects information with measures that cannot be seen or taken out of the system even in the event of outside intrusion
Many people are concerned about cloud security, but Oracle Cloud Infrastructure provides security features at each layer to protect your information not only from outside intrusion, but also from the inside in case a suspicious user enters your network. And even if data access is successful, Oracle Cloud Infrastructure forcibly encrypts all the data so the data cannot be taken outside.
In this way, those who are concerned about migrating to the cloud from a security perspective can peacefully use the Oracle Cloud Infrastructure that has layers of security measures in place to ensure security even if your internal network has been infiltrated.
Internal attacks
Proven security features of Oracle database protect information from internal fraud
Oracle Cloud Infrastructure provides data-centric security measures that protect information from internal attacks using the proven security features of the Oracle Database. Oracle Database security features include detailed access control and mandatory encryption to ensure that no one inside the company touches the data beyond necessity, and no one takes the data outside the company. Log audits can also detect unauthorized access. This allows Oracle Cloud Infrastructure to protect your confidential information from internal fraud and unintentional negligence by employees.
---
Many Oracle Cloud Infrastructure security features are free
Oracle Cloud Infrastructure offers a wide range of security features for free.
---
Free Features of Oracle Cloud Infrastructure
Feature Details
Feature Name
Strong, complete tenant separation
Isolated Network Virtualization / Bare Metal
Standard feature
Hierarchical authority management
Compartment model
Standard feature
Encryption of communication
Encryption of communication
Standard feature
Data encryption
Oracle Advanced Security - Transparent Data Encryption -
Audit trail
Oracle Cloud Infrastructure – Audit
Account management and access control
Identity and Access Management
Key management
Oracle Cloud Infrastructure Vault
Vulnerability detection
Oracle Vulnerability Scanning Service
Security advisor
Cloud Advisor
Automatic detection of risky settings
Oracle Cloud Guard
Enforcement of security policy
Oracle Security Zones
Automatic DB security management
Oracle Datasafe (*1)
Automatic online patch application
Autonomous Database (*2)
*1. You can use up to 1 million audit records/month. accumulated by Datasafe free of charge
*2. You can use the online automatic patch application feature free of charge when you purchase Autonomous Database.
Simple and affordable implementation of multi-layered defense environment using Oracle Cloud Infrastructure security features
Oracle Cloud Infrastructure is fully equipped with a variety of security features, so there is no need to select and install the necessary tools, which reduces the workload during initial installation. This also reduces initial installation cost. Oracle Cloud Infrastructure offers most of its high-performance features at no cost, and there is no need to select or install tools to deploy it. So, you can easily start high security measures with multi-layered protection at a low cost.
Oracle Security Site
We will also take care of security measures during Oracle Cloud Infrastructure construction!
1. Consistent support
We provide total support for Oracle Cloud Infrastructure, including its design, construction, database migration support, operation, monitoring, and security measures.

2. Safe infrastructure construction based on verification
Our goal is to provide a secure infrastructure that meets the needs of our customers, and we have conducted a security verification of Oracle Cloud Infrastructure to provide a secure infrastructure for our customers.
3. No. 1 Technical Strength of Oracle Cloud Infrastructure Certification Holders
NTT DATA INTELLILINK has received "Oracle Certification Award 2021" for being the first acquirer of "Oracle Cloud Platform (PaaS/OCI) Certification" in Japan. Oracle Cloud Infrastructure certified engineers provide high-quality professional services to help you solve your problems.
Contact
If you are interested in Oracle Cloud Infrastructure, please feel free to contact our sales representative using the inquiry form below. We will give you detailed explanation. We look forward to hearing from you.
* These products or services are only available in Japan.
Oracle Cloud Infrastructure for Highly-Secure Environments at Low Cost
Oracle Cloud Infrastructure for Highly-Secure Environments at Low Cost