SSL/TLS Server Certificate Voucher (Ticket)
What is SSL/TLS server certificate?
SSL/TLS server certificate encrypts the communication between the user and the website and makes it secure from the malicious third parties over the Internet path. It can also certify that the website has been "verified for its existence" by a trusted certification authority.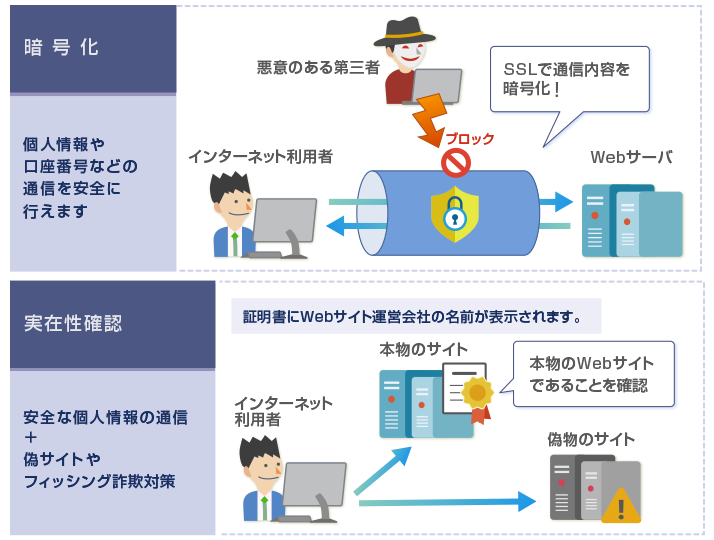 SSL/TLS Server Certificate Authentication Method
Certificate Type
EV (EV authentication)
OV (Corporate authentication)
DV (Domain authentication)
Strengths
• The most trusted SSL server certificate
• Issued through a rigorous application process based on EV guidelines
• Standard SSL server certificate
• Issued through a rigorous application process
• Simple SSL server certificate
• Issued only upon confirmation by the domain name administrator
Main usage scenario
Important external websites
• Financial institutions, e-commerce sites that handle large amount of personal information
• Top page of the company website
External websites
• Request for documents, contact us, or visit our Careers page
Internal websites
• Intranet sites that do not communicate with an unspecified number of parties
Authentication of existence
○
○
×
Authentication of domain usage rights
○
○
○
Encryption function
○
○
○
Personal acquisition
×
×
○
Phishing measures
◎
◎
×
Reliability
★★★
★★
★
Safety visibility
• Key mark
• Green address bar and organization name display (IE)
• Organization name displayed with a single click of the key mark
• Key mark
• Key mark
What is a voucher (ticket)?
This is a discount ticket that can be used for making payment instead of cash when applying for a server certificate.
You can apply for a server certificate using the code written on the voucher.
Available at a lower price than the standard price of manufacturer
Payment can be made by invoice.
Delivery can be made in as fast as the same day to 3 business days after order is placed.
Voucher (ticket) can be used for approximately one year after delivery
It can also be used for server certificates that will be newly issued or to be renewed within the expiration date.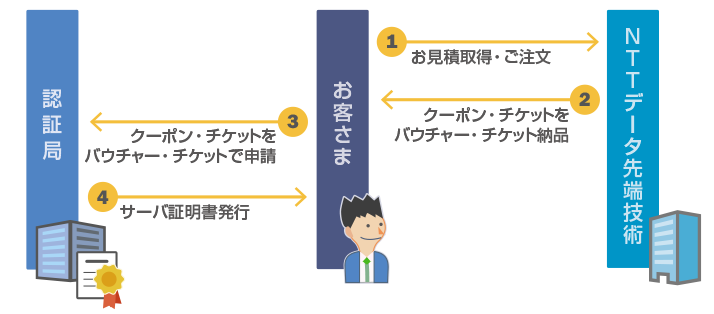 Products handled
*You will be redirected to the introduction page of each company on clicking the logo.
*The amount listed on each introductory page is the fixed price. Please contact us for the voucher (ticket) prices we offer.
*In addition to server certificate, we also offer code signing certificate and S/MIME digital signature certificate.
Contact/Quotation
NTT DATA INTELLILINK Corporation Electronic Certificate Voucher (Ticket) Office
E-mail:

Related Sites