NOSiDE Inventory Sub System Remote Access Management
NOSiDE Inventory Sub System Remote Access Management" is a packaged solution that provides MDSM (Mobile Device Security Management) to securely connect mobile devices (Windows PCs, MacOS X clients, smart devices) used outside the office to the company network. Based on the feedback from many customers who have used NOSiDE in the past, we have been able to ensure client security, which is a major issue when building a remote access system using mobile devices. This system can contribute to the diversification of workstyles and realization of BCP measures in the event of a large-scale disaster.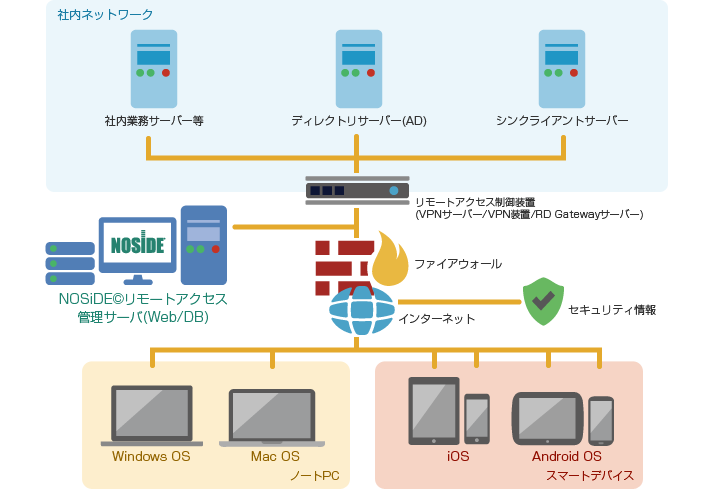 System Overview
With the growing popularity of smart devices (smartphones, tablets) and lightweight, notebook PCs with long-lasting batteries, there is a growing need for secure remote access to corporate systems from home and other locations while away from the office. By implementing NOSiDE Remote Access Management, security measures can be realized when mobile device users connect to corporate information systems. Mobile device users connect to the NOSiDE Remote Access Management Server using a web browser (Windows PC or MacOSX client) or a dedicated application (smart device) to perform device diagnostics. Connection policy diagnostics is performed on the device, and if it meets the policy, the device is automatically allowed to connect to the intranet. If a device does not meet the connection policy, its connection to the intranet is denied, thus protecting the internal network from security threats caused by remote access devices.
System Features
Diagnosis of mobile devices used outside the office when they are connected enables prevention of threats introduced into the company network by the devices.
A single system can handle a mixed environment of smart devices and mobile PCs.
Supports various remote access methods, such as VPN and thin client connections.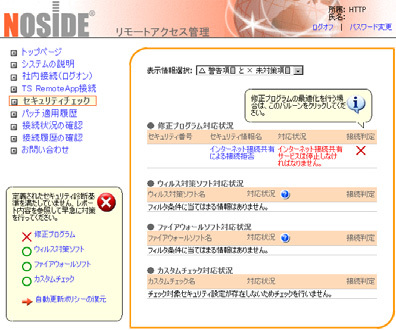 Multi-OS / Multi-device Support
Clients can be PCs (Windows / Macintosh) as well as iOS and Android OS on tablets and smartphones. Supports a wide range of platforms that are active in the business world.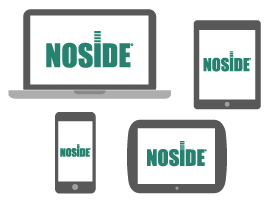 Supported Platforms
Server
Windows Server 2008 / 2008 R2 / 2012 / 2012 R2 / 2016
SQL Server 2008 / 2008 R2 / 2012 / 2014 / 2016
Client
Windows
Windows10(x86 / x64)
Windows8 / 8.1(x86 / x64)
Windows7(x86 / x64)
Windows Vista(x86 / x64)
Windows Server 2008 / 2008 R2 /
2012 / 2012 R2(x86 / x64)
Mac
OS X, macOS(*1)
Smart devices with Android OS
Android OS 2.3, 3.2, 4.0 ~(*1)
Smart devices with iOS
iOS 7 ~(*1)
*1 Contact us for the latest version compatibility.
Functions for Clients
Client connection diagnostics
Program execution after diagnostics
Thin client connection
Statistics reference function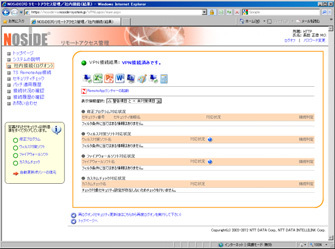 Administrator Functions
Connection status terminal diagnostic history management function
Setup and management of client connection diagnostic policy
Verified remote access control devices
Optional Features