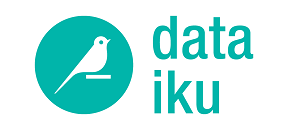 All-in-One AI and Machine Learning Platform
platform
Dataiku is an all-in-one AI and machine learning platform that integrates everything from connecting to data sources, preparing data, and building AI and machine learning models to developing and operating analytical applications as a single solution.
Please click on the banner link below to learn more about Dataiku.

Dataiku Features
Easy to use, even for users without technical expertise
It is possible to centrally manage AI and machine learning from start to finish, and to handle its operations using only a GUI.
This makes it easy for business users without technical expertise to access and analyze data with a simple click, and to incorporate AI into their work.
It also provides a function which reports the basis for prediction results of machine learning model and AI. It is also possible to support decision making using AI.
Improved productivity through collaboration
No code/low code/full code (visual recipe *4, Code Recipe *5) is supported. Hence, all users ranging from general business users to users working on coding in technical fields can work together seamlessly on a single platform. This allows the integration and streamlining of tools and processes that were previously fragmented due to differences in job roles and technical areas, leading to increased productivity in the use of data and AI.
Efficient data preparation
It can connect to more than 40 different data sources as standard, allowing you to continue visualization and data preparation. In addition, the push-down architecture(*6)can accelerate processing of large data.
It allows you to connect to any data source in the enterprise and efficiently prepare data for integration, processing, and transformation.
Enterprise-level security and governance
Dataiku can establish the security and governance your enterprise needs, including history and progression of all data changes, dependency tracking, fine access control to data projects, and auditing.
This will safely accelerate the data utilization throughout the organization.
Please feel free to contact us for more information about Dataiku.
* These products or services are only available in Japan.