Supporting "Work Style Reform" with AI Quick Reply
Overview
Quick Reply is part of NTT DATA INTELLILINK's services to promote the use of AI by companies. It can be used as an add-in to the mailer environment that you normally use.
The system has four features—FAQ registration, FAQ search, training data registration, and FAQ/training data management—and can improve operational efficiency with minimal burden, without changing the existing e-mail environment.
Quick Reply will streamline e-mail inquiry operations and eliminate the dependence on individual skills in work that concentrates knowledge in the hands of individuals. This will make a significant contribution to the promotion of "work style reform" in companies.
Product Features
Quick Reply is a cloud service that supports the accumulation, utilization and learning (advancement of utilization) of business knowledge, and can be used starting from zero knowledge base. By simply installing an add-in to your mailer environment, Quick Reply will enable you to easily search for queries delivered to your mailer and provide functions such as "Insert as an answer in reply email" or "Register the response to the mailer as a new FAQ."

FAQ Registration

Register FAQs from inquiries and newly created replies from the mailer to Quick Reply

FAQ Search

Easy search by selecting the text you want to search from the body of the mailer, and insert the response from Quick Reply into the reply mail with a single click

Learning data registration

Register the questions you want to record as training data from the mailer by linking them to existing FAQs and registering them in Quick Reply

FAQ and learning data management

Manually add and edit FAQs and training data from a browser-accessible management screen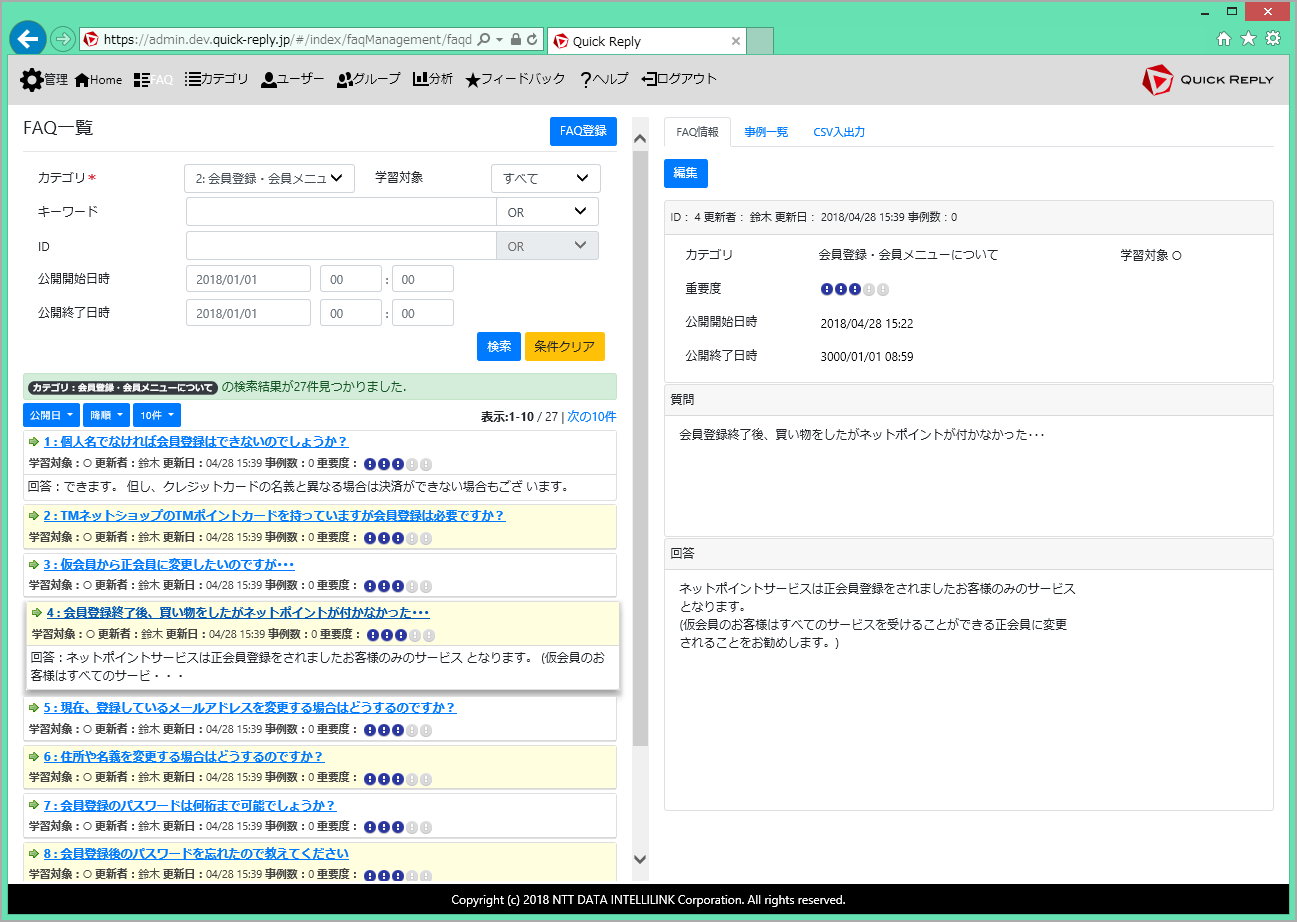 FAQ List Screen Image
List of Functions
| Add-in Functions | Service Management Functions |
| --- | --- |
| FAQ Registration Request | User Registration |
| FAQ question text search | Category editing and browsing |
| FAQ Keyword Search | Register, Edit, or Delete FAQs |
| Learning data registration | Learning data registration |
| Feedback Registration | Training object setting |
| Category switching | Training data import |
|   | Various Statistics |
This product is ideal for customers with the following requirements and issues.
The same question has been answered many times in the past.
Searching and referencing past email history to compose a response.
Referring to and attaching documents on the file server to create a response.
The same person is contacted each time to create a response.
Related Information
The special content "AI BUSINESS INFRASTRUCTURE"'s product and service menu also has an introduction of this.