ServiceNow Operations Management Solution Hinemos Integration
Many DX initiatives have expressed a desire to improve IT service operations. Specifically, they are expecting "centralization" and "automation" of IT service operations to enhance their sophistication.
Our Hinemos operation management solution has been deployed in more than 700 systems and has contributed to quality IT service operations. Furthermore, by linking with ServiceNow's service management and automation functions, it is possible to consolidate and enhance the automation of the entire IT service operation.
Overview
The integration of Hinemos and ServiceNow makes the IT service operations sophisticated by synchronizing and centrally managing the configuration information of IT services collected by Hinemos with ServiceNow's configuration management database (CMDB). In addition, the realization of basic Hinemos operations through ServiceNow workflows, and the automatic reporting of Hinemos monitoring and job management events as ServiceNow incidents are some IT service operations supported by the integration.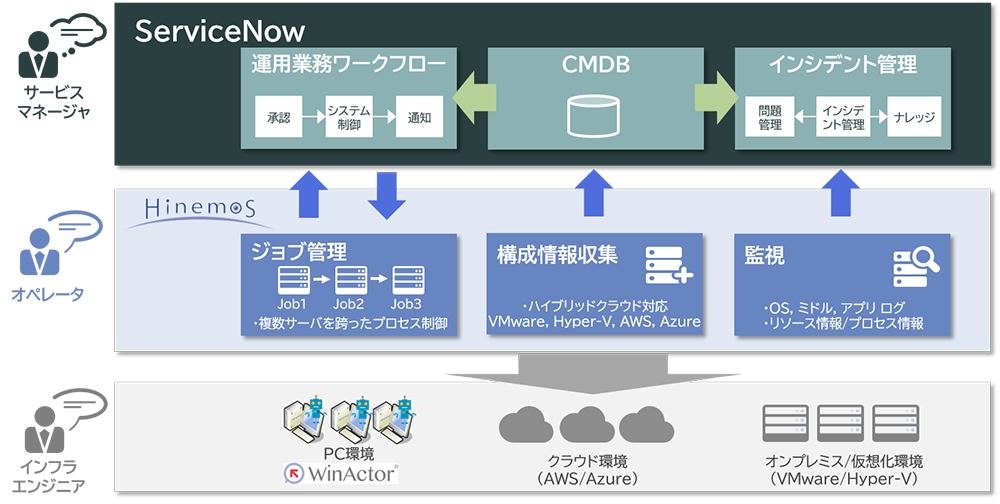 Features
We realize the overall optimization of IT service operations in the areas of IT operations management and IT service management.
Streamlining IT service operation processes
Seamless integration between Hinemos and ServiceNow to integrate and automate IT service operation processes
Automation and centralized management of fresh CMDB construction
Enables timely and accurate management of configuration information, which is essential for advanced IT service operations
Key Features
CMDB Integration
Using ServiceNow's Service Graph Connector, configuration information collected by Hinemos is linked to ServiceNow's CMDB to support timely and accurate centralized CMDB management.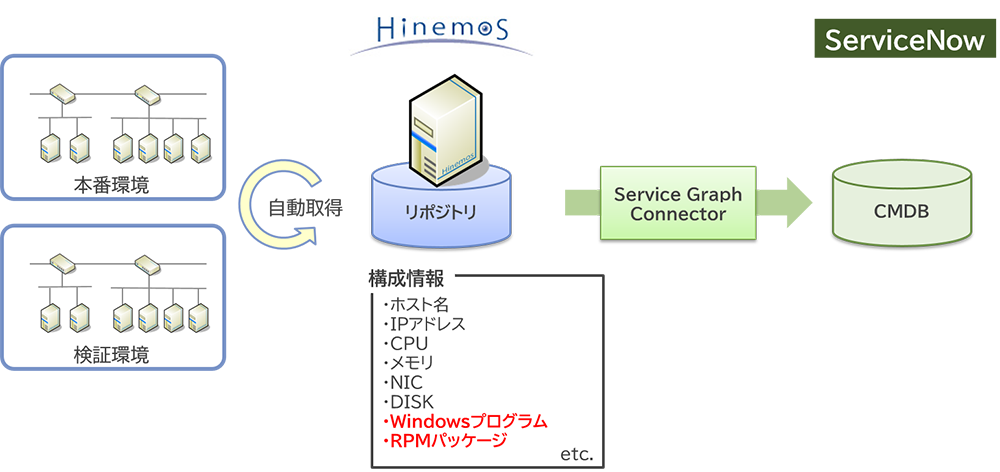 Workflow integration
Hinemos operations are carried out simply from ServiceNow workflows to streamline operational process management and improve service levels.
The ServiceNow operational workflow is used as an interface to perform various operations on Hinemos.

Incident Integration
Provides a simple way to report event information from Hinemos monitoring and job management as ServiceNow incidents. The following three integration methods are available.
Event integration...Integrate Hinemos events with ServiceNow events
Inbound event integration... Convert Hinemos events to any data format and integrate with events
Incident integration... Integrate Hinemos events directly as ServiceNow incidents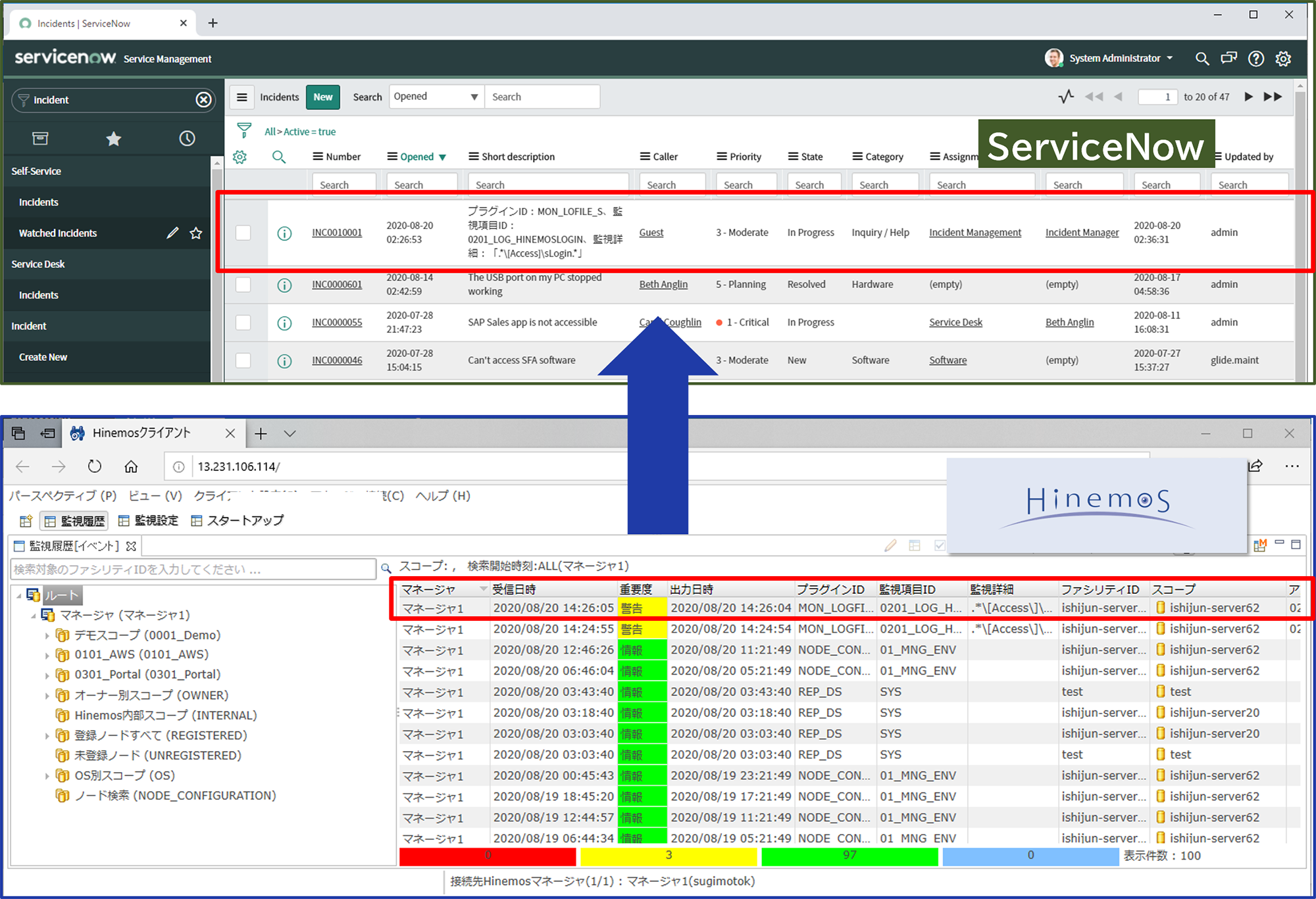 System configuration
To use ServiceNow Hinemos integration, Hinemos Manager must communicate with ServiceNow, a cloud service.
The MID server provided by ServiceNow allows you to connect Hinemos Manager to ServiceNow without having to install Hinemos Manager on a segment with Internet access.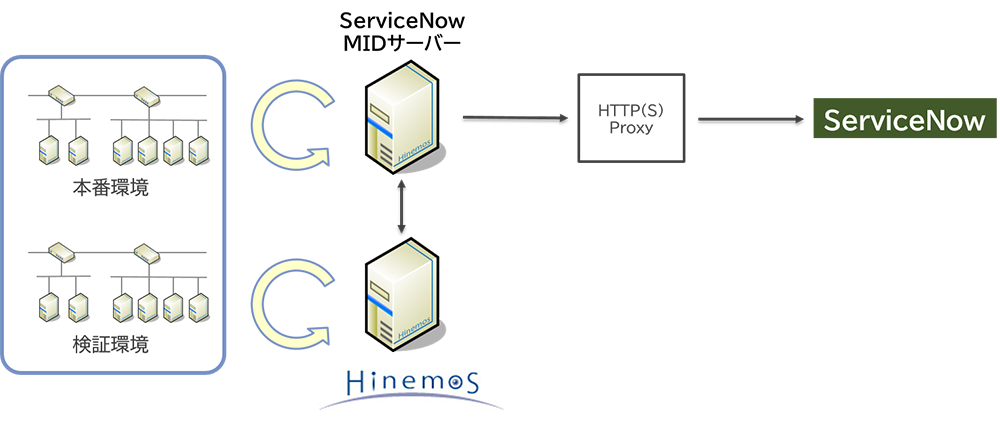 For Inquiries
Inquiries about ServiceNow Hinemos integration are accepted at the Hinemos portal site.
* These products or services are only available in Japan.
ServiceNow Operations Management Solution Hinemos Integration
ServiceNow Operations Management Solution Hinemos Integration