VOISTAGE Multimedia Box VS-412MB
From the era of PCI telephony boards mounted on servers to the era of add-ins via USB.
This telephony box supports two digital bands (4 channels) that can be easily installed and expanded without worrying about server or installation space limitations or expansion board compatibility.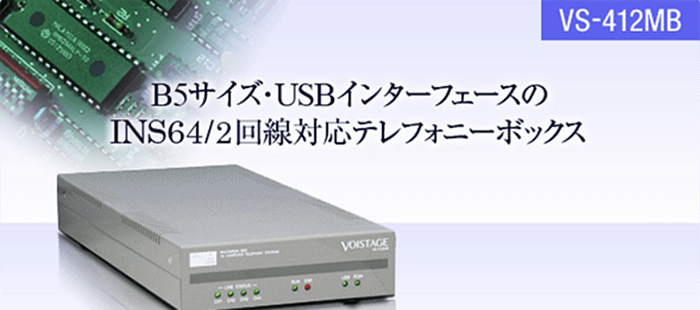 Expanding system possibilities from PCI to USB
USB 2.0 is adopted for the host interface. As there is no longer a need to pursue compatibility between expansion boards and PC servers as in the past, the degree of freedom in system construction is greatly increased. The new system has further enhanced PC compatibility and maintenance and expandability of the system.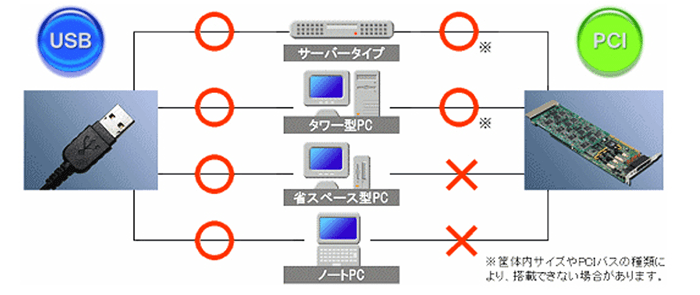 The USB interface can be easily connected to a variety of PCs without being limited by physical space in the PC casing, bus format, or compatibility, as is the case with PCI boards.
Compact A5 size casing and flexibility in expanding
A compact design with the main body width of 135 mm, height of 40 mm, depth of 270 mm, and weight of 1.3 kg. Up to three units can be mounted in a 19-inch rack (1U), and up to eight units can be connected. USB interface for easy expansion. Ideal for small start systems.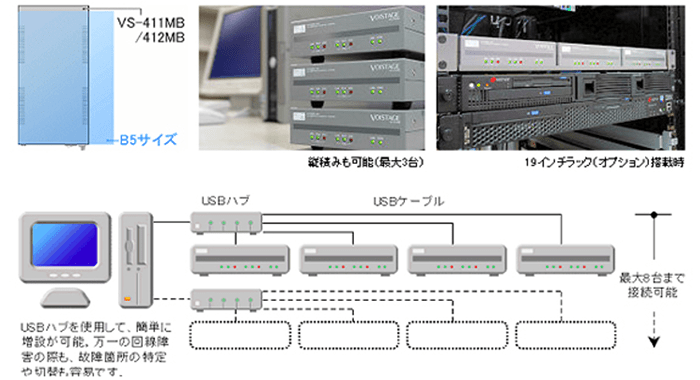 5-year warranty for comfortable and relaxed use
Registration as a user increases the warranty period from one year to five years. The product can be repaired an unlimited number of times during the term without incurring additional charges for malfunctions under normal use.
*Troubleshooting such as log investigation requires a separate multimedia box maintenance service (paid service).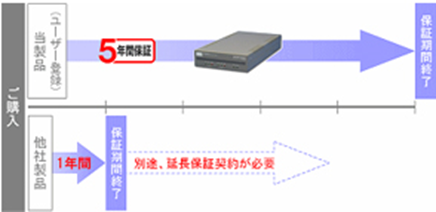 Standard support for full-scale functions
The latest basic software is included as standard. Supports various functions such as number display support, voice recognition/speech synthesis, and high-speed FAX processing.
The cost value that only VOISTAGE can offer can be realized even in this compact box.

For systems and services in various fields
Combined with small-factor PCs, it can be operated in previously inaccessible cramped environments. For example, in the reception counter of a clinic, or in a small empty space in a small office. It can meet a wide range of needs and applications, regardless of the installation environment.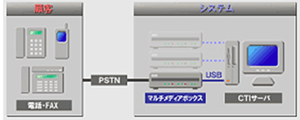 For product ordering/reservation reception systems for stores and distribution companies
For consultation appointment reception systems in hospitals and clinics
For sales support in small offices such as SOHO and insurance agencies
For information-guidance systems for local governments and public services
For various FAX services, FAX servers and FAX-OCR systems
For large scale and full-scale systems
It supports all the functions of multimedia cards, enabling the construction of a full-fledged CTI system as an alternative to multimedia cards. The system can flexibly support systems that require large-scale and flexible line operation, and can easily locate, switch, and recover from malfunctions making it reliable in the event of line failure. It meets a wide range of needs and applications
For these needs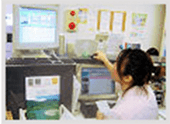 The reception area is far too cramped to accommodate a large system!(Clinic Appointment)
With a Multimedia box...
The SIP-compliant IP phone "IP NetPhone SX" is compatible with IP Centrex services and IP-PBX, and realizes an IP voice system in the office. In addition to excellent operability and clear sound quality, it also provides essential telephone functions in business settings.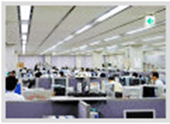 We would like to implement it in each department, but transfers and modifications are frequent... (Departmental Help Desk)
With a Multimedia box...
It supports a wide range of services with a small number of lines. It is easy to move the installation location and expand/reduce the scale. It flexibly responds to fluctuations in the operating environment.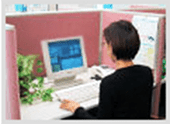 We want to keep costs down and use our idle PCs as servers!(SO-HO Sales Support)
With a Multimedia box...
It can be connected to and operated with a variety of PCs equipped with USB 2.0 ports. No need to build a new server. Sales support can be started immediately using familiar PCs, and existing equipment can be utilized without waste.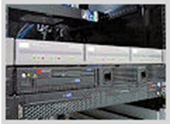 We'll consider full-scale operations after we see how the business goes!(Pilot Project)
With a Multimedia box...
Hardware configuration can be started from a minimum, and expansion is simple because of the device-by-device connection. It is ideal for small-start operations, as it does not require additional PCs for each additional line. It also supports full-scale operation in a server room using a 19-inch rack.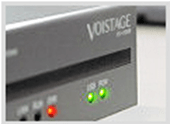 In case of line failure, maintenance is a hassle!(Store Ordering system)
With a Multimedia box...
There is no need to open the PC and remove and install the board like a telephony board, and no specialized knowledge is required. Equipped with an operating status lamp on the front panel, it is easy to locate and switch to the fault location without stopping service.
Exterior view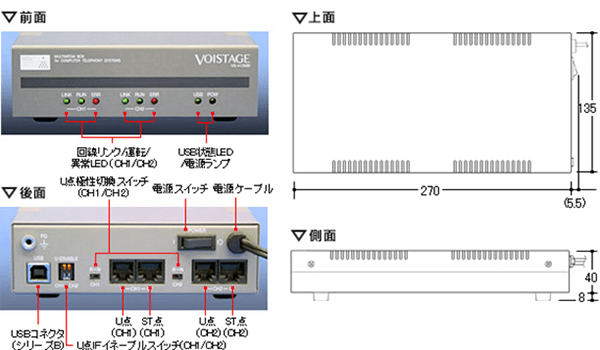 Functions/Specifications
Host Interface
USB2.0 series B connector x 1 Hi-Speed compatible
Main Processor
SH7750R(sh4) Processor x 1 (clock: 240 MHz)
SDRAM:16Mbyte(64bit),FlashROM:2Mbyte(8bit))
Digital Signal Processor
2 DSPs for voice processing/dial recognition/echo cancellation, 4 DSPs for modems
Line connection method
U point (with built-in DSU): RJ11 modular connector, S/T point: RJ45 modular connector
Applicable lines
Subscriber telephone line (INS net 64: call mode)
Number of connected lines
2 digital lines
Voice processing (method)
PCM8, 16, μ-lawPCM
Data rate: PCM8: 64kb/s, PCM16: 128Kb/s, μ-law: 64Kb/s
FAX function
High-speed transmission/reception of up to 33.6Kb/s (when using Super G3), color FAX support
Applicable standards: V.34, V.17, V.29, V.27ter, V.21 channel 2 compliant G3/Super G3 standard compliant Compression method: MH, MR, MMR, JBIG
DTMF tone detection
0 to 9, *, #, A, B, C, D Minimum pause 30ms
Dial pulse recognition
0 to 9, automatically detects and recognizes DP-10/DP-20/DTMF after line connection
Recognition rate of 99% or more (measured by our company)
Voice recognition
Voice recognition engine: Vrec2 included (manufactured by NTT DATA Corporation)
Continuous voice recognition for unspecified speakers, up to 1000 words simultaneously recognized in 4 consecutive sessions, up to 500,000 registered words, overspeech recognition
Speech synthesis
In addition to SAPI5 support, each synthesis engine of "Optional Product" is available
Number display
Compatible with NTT's outgoing call number display service
Dial-in
Compatible with NTT dial-in/INS dial-in service
Operating environment
Currently supported operating systems are as follows
Windows Server 2019 Standard/Datacenter
Windows Server 2016 Standard/Datacenter/Essentials
Windows Server 2012 R2 Standard
Windows Server 2012 Standard
Windows Server 2008 R2
Windows 10
Windows 8.1
Windows 8 Pro
Windows 7 Professional SP1 32bit/64bit
Operating voltage
AC100V±5%, 50/60Hz
Current consumption (max)
0.3A
Power consumption
8W
Calorific value
6.9Kcal
Dimensions
40 (excluding rubber feet) x 135 x 275.5 (including protrusions) mm
Weight
1.3kg
Accessories
USB cable (2m), U-point cross cable (3m) x 2, warranty card, instruction manual (downloadable)
Attached software: Multimedia card basic software (provided as a download)

GUI development tool (StageWriter), dedicated script compiler
ActiveX control for VisualBASIC/VisualC++
Complete set for development environment such as standard telephony API library, "StagePalette" integrated utility
Voice recognition engine "Vrec2"

Optional Accessories
VoiceText (HOYA), AI Talk (AI), and FineSpeech (Animo) are available as speech synthesis options
RoHS compliant
Support
JATE Certification Number
C06-0138001
*Specifications are subject to change without notice for improvement.