Voice Recognition Telephone Guide System VS-ONT05
A new generation telephone guide that allows you to call up the desired information with your voice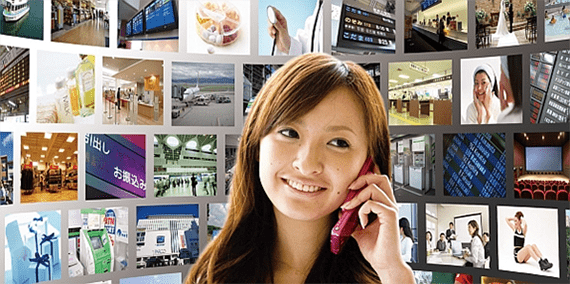 User-friendly, new-generation system

Telephone guides active in a variety of fields are available 24 hours a day and you can obtain the desired information by phone or fax. However, it was necessary to select the desired information from a pre-distributed menu code table, and dial a code number in the conventional systems. The "Voice Recognition Telephone Guide System" is a "User-friendly" system in which users simply speak the words that come to mind over the phone, and the computer understands and responds to them.

Also for municipalities struggling with utilization rates and operations

The reasons for the yearly decline in the use of traditional services include the obsolete information content and the scattered and lost code table. The municipalities and organizations that have already introduced telephone guide service can improve its utilization rate by introducing "Voice recognition telephone guide system", which anyone can easily update and operate without a code table.

Key features of the voice recognition telephone guide system
Service and Operation Picture

Accurate response to ambiguous words
Accurate recognition of words from different people
It can almost certainly hear the voice of an unidentified person. It can also provide respective information to 4 to 16 people (lines) at the same time. *The words may not be recognized depending on the usage environment, such as calls in noisy environments or mobile phone in poor condition.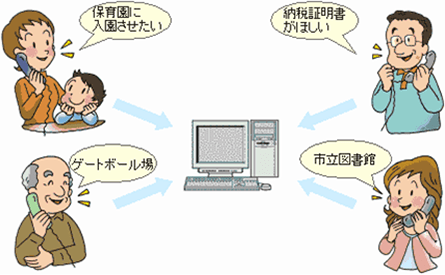 Accurate recognition of words from different people
Multiple readings and expressions can be set for a single item, so the item name can be recognized even if it is not spoken correctly.

Conditions can be narrowed down and operation can also be performed during guidance
If you cannot identify the information, you can narrow down the search by following the voice guidance. In addition, the "Barge-in function" enables speech and dialing during the guidance process.

Anyone can use this service by following the guidance message
There is no need of dialing while looking at the code table. Anyone can easily retrieve the desired information in a natural interactive format.
Example of use by voice recognition (can also be used by code input)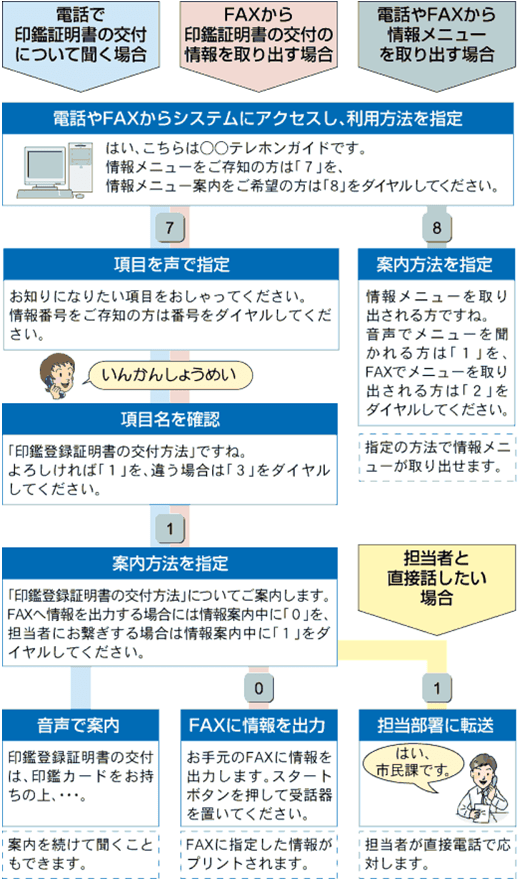 Meets the needs of both user and operator
It is also possible to enter normal code
Push-in operation using menu codes (information numbers) like conventional telephone guide is also possible.
It can also be used from dial-type black phones
It can be used from rotary-dial phones by means of highly accurate dial pulse recognition function and does not require a selection of phones.
Even for the visually and hearing impaired
It is a barrier-free information media that can be used by the visually impaired without a code table and by the hearing-impaired who can easily retrieve information by fax.
You can schedule registration for the information provided
Up to 100 types of information can be registered for each item, and the guidance period can be set for each. Information that varies by period can also be registered in advance to provide detailed service.
Statistical tables can also be generated
The usage status can be printed by item and by time period, and can be used as an operational study document for organizing menus and increasing/decreasing lines according to usage.
Remote maintenance function considering security
Information can be easily replaced, added, or deleted from a remote telephone or fax machine. Password settings for each item prevent outsiders from operating the system or accidentally updating other information.
Data backup and restore function
In case of malfunction or data loss, voice and fax data can be backed up as needed and restored with a simple operation.
Convenient Optional Functions
Character/voice conversion function
It converts text data entered by a word processor, which is a mixture of kanji and kana, into natural speech. It can create messages easily and eliminates the need to hire an announcer.
FAX data input function
The contents created by a word processor can be registered as fax data as it is. Compared to printing once and registering from a fax machine, the text and illustrations can be output cleanly.
Home page linking function *1
Since the contents of the home page can also be registered as fax data and speech information as they are, information that was previously created separately can now be managed centrally.
*1. Web-FAX converter VS-WEF01 is required to use this function.
Extension/outside line transfer function *2
Calls can be forwarded directly to the person in charge for a more detailed response. It can also be used like a telephone answering system by setting forwarding destination and schedule in detail.
*2. The extension/outside line transfer tool VS-ONT05-FW is required to use this function.
Suggestion box function *3
The operator can retrieve the stored data after receiving voice and fax from user.
*3. Voice/fax mail VS-ONT05-CV is required to use this function.
The system is easy to operate and can be easily handled by anyone.
Anyone who can perform basic computer operations can easily operate this system. You need to simply follow the on-screen instructions to check operational status and update information items.
Operation status screen
Various information during operation can be intuitively checked, including the operation status screen from which you can check the connection status of each line at a glance and an information list screen that shows the currently configured items in an easy-to-read tree format. Anyone who can perform basic computer operations can easily operate this system.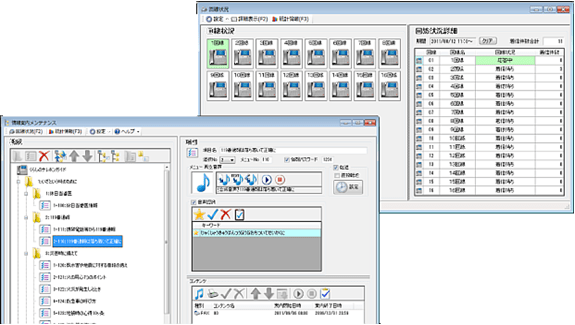 Item setting screen and information list screen
Using client software makes it even more convenient to update and confirm voice/fax information on the screen of a terminal on the network.
*One client license is included as a standard.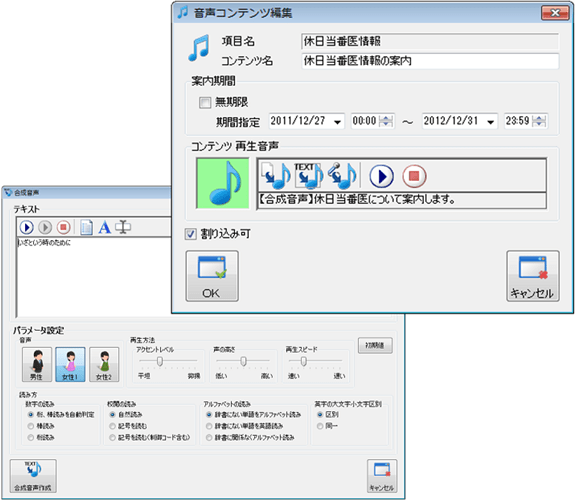 Developer

ASAHI TELEPHONE BROADCASTING Co., Ltd. http://www.asahi-tel.co.jp

1-6-11 Kyutaromachi, Chuo-ku, Osaka 541-0056
9F, Nishino-Kinryo West Building
TEL: 06-6262-4545 / FAX: 06-6262-1022
Email: info@asahi-tel.co.jp