astimaCCE / SBI Business Innovator Co., Ltd.
Call Center System Renewal to Accomplish Expansion Strategy
The deciding factor in choosing astima was speed and flexibility!
Project Overview

SBI Business Innovator handles all call center operations for the SBI Group, which handles securities, online banking, non-life insurance, and other financial businesses. The company's operational solutions, based on the pillars of "high-quality and prompt customer service" and "highly safe operations and facilities," have been highly evaluated, and the company has also won orders from outside the group as an outsourcer. Aiming for further business expansion, the company selected NTT DATA INTELLILINK's "astima Call Center Edition" as the center's new infrastructure system.
Background and Effects of Introduction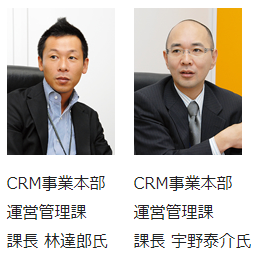 SBI Business Innovator is engaged in call center operations as well as temporary staffing services. Currently, the company is growing rapidly by undertaking contact center operations not only for SBI Group companies but also for general companies. The SBI Group's business model is based on the Internet-based financial business, and its call centers play a significant role in direct contact with customers. In this regard, SBI Business Innovator has been in business for only five years, but is highly regarded for its high level of customer service and operational quality.
The company has been increasing the number of orders from outside the group, backed by its high-quality service capabilities, and has an aggressive management plan to increase this ratio in the future. The first step toward achieving this goal is to review the infrastructure systems such as PBX and IVR.
Call center vendors that handle multiple corporations as customers are required to respond quickly to customer requests. Moreover, "the sense of speed will become increasingly important in the future," said Tatsuro Hayashi, manager of the CRM Business Division's Operations Management Section. He determined that "considering the trends of the times, it is essential to have multi-tenant and software-complete solutions". The company proceeded with the system renewal.
Flexibility that only a domestic product can provide
When they searched for a multi-tenant and software-switched PBX, they found only three systems that could be utilized for call centers. From there, NTT DATA INTELLILINK was selected as a partner to promote the strategy, and the company's all-in-one appliance "astima Call Center Edition" was chosen.
System integration was handled by Open Source Business Corporation (Shinjuku-ku, Tokyo; President: Komaki Nakano). The deciding factor was not only the functionality and price, but also the fact that "they listened to us sincerely and responded flexibly, about everything including customization," said Taisuke Uno, manager of the CRM Business Division's Operations Management Section.
"Most vendors say they are willing to customize, but in practice, they are often reluctant to do so because the requirements are so detailed. However, NTT DATA INTELLILINK responded without fail," he said.
Can be set up without specialized knowledge
High satisfaction after installation. For example, "intuitive operation allows us to set up and modify skill-based routing and call flows in-house," says Section Chief Hayashi.
Since such configuration changes are usually left to the vendor, which incur costs, "We can respond quickly, flexibly, and cost-effectively to customer requests for changes," says Uno, who highly appreciates the system. It has been about three months since the new system went live. "I was prepared for the usual obstacles that come with start-up, but so far there have been none. It is less stressful to use," said both section managers. At the time of installation, the company plans to start with 70 ch for 50 seats and "replace all of them within five years." It is likely that astima will become an indispensable part of SBI Business Innovator in the future.
System configuration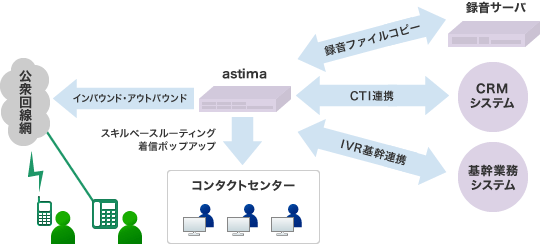 System examples of a call center with astima Call Center Edition
User Profile
SBI Business Innovator Co., Ltd. http://www.sbibs.co.jp/
Established: April 26, 2006
Capital: 100 Million JPY
Number of employees: Approximately 500 (including 70 full-time employees) *As of September 1, 2010
Business activities: Call center operation (outsourced contracting), temporary staffing, personnel placement
Related Information