INTELLILINK System Operation Visualization Dashboard Service for OCI
The System Operation Visualization Dashboard is a dashboard service that supports the understanding of system operation status using Application Performance Monitoring (APM) of Oracle Management Cloud (OMC). The thresholds for nodes and applications to be monitored are set on the dashboard. You can monitor the status of your operation from your laptop or smartphone, no matter where you are. OMC is designed to handle monitoring of mission-critical systems, and our system operations expertise is implemented in the dashboard templates. We support the new normal work style of system operation administrators.
You can monitor the status even on holidays, late at night, or in other emergency situations!
You can rest assured without having to spend sleepless nights. We recommend this as a DX measure!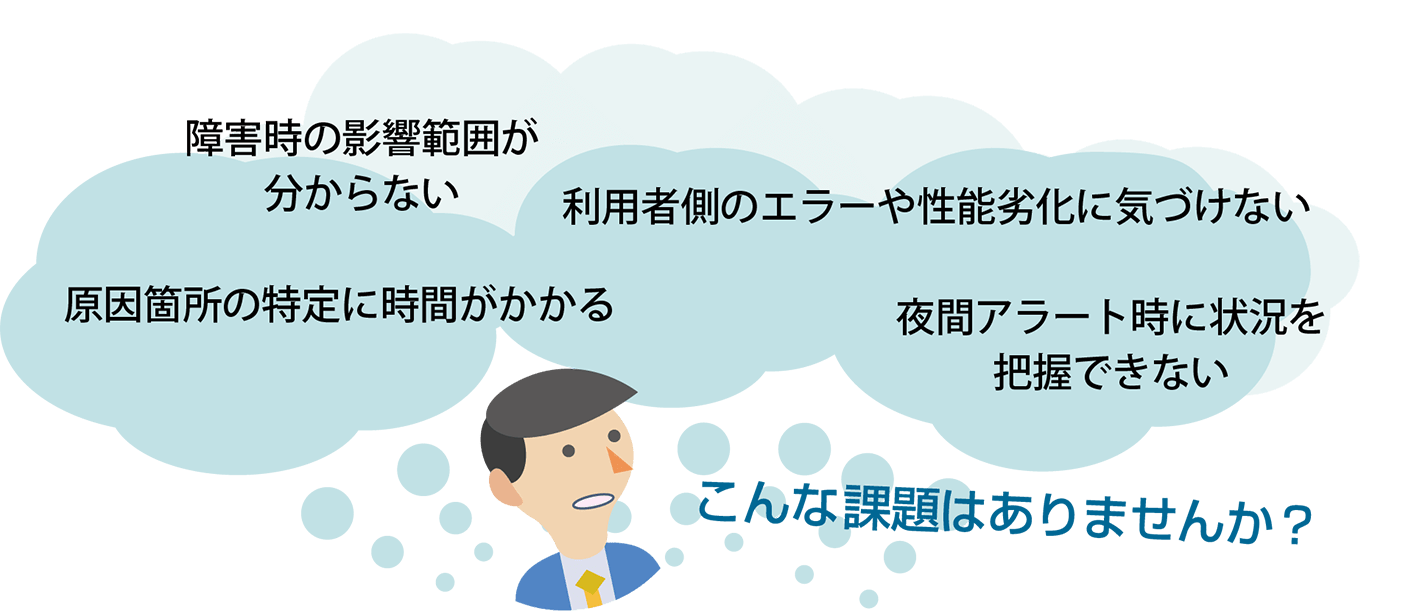 Prepare optimal dashboards for operation visualization
Application Performance Monitoring dashboard example
You can search real-time data and monitor health checks and performance of system infrastructure or applications. You can view the status of managed entities, the number of alerts, and log trends for entities in the application. You can also monitor exceptions, create scatter plots to show performance and abnormal values of resources, and correlate performance and load metrics.
System Operation Visualization Dashboard Function
Using APM, you can track transactions across servers, monitor application performance, and identify the exact layer that is causing application problems. The table below shows the functions used to identify application performance problems.
| Function | Description |
| --- | --- |
| Overview using dashboard | Enables integrated visualization of various alerts, various server and user performance conditions, and other information collected by OMC. |
| Server request performance analysis | Analyzes server processing and graphically displays process association, response times, errors, etc. |
| End-user performance analysis | Records the user's experience time and graphically displays load times, errors, satisfaction level, etc. |
| Alert notification by baseline and trend determination | Automatically determines abnormal values based on past trends and provides alert notifications based on trend determination. |
| Synthetic test | Tests workflows by HTTP Ping, page load, Selenium and REST web services. |
The target monitored by the system operation visualization dashboard is within 100 entities. Entities are technical assets to be managed or monitored, such as "Host (Windows)" and "Oracle Database".
Flow of Service Provision
The flow of using the System Operation Visualization Dashboard service is given below.
 
Activity
Responsibility of Activity
NTT DATA INTELLILINK
Customer
1
Explaining services (face-to-face explanation is assumed)
○
 
2
Creating OMC environment
○
 
3
Providing and explaining dashboard
○
 
4
Using the dashboard
 
○
5
Q&A when using the dashboard
○
 
The service uses Oracle Cloud (OMC/APM) to connect to the target system to obtain and display the status information. The OMC used in the service is for the Japan region of Oracle Cloud.
Contact Us
Please feel free to contact our sales representatives if you have any questions about the implementation of the system operation visualization dashboard.
Material Download
[Introductory Material] INTELLILINK System Operation Visualization Dashboard Service for OCI (PDF: 2 pages, 1.03MB)