INTELLILINK System Remote Operations Support Service for Oracle
The changing needs of work style reform
The changing needs of telework and work style reforms have led to consideration of allocating personnel to their original duties and business continuity plan (BCP). System operation is one of the important factors in company operations, but it can also be outsourced.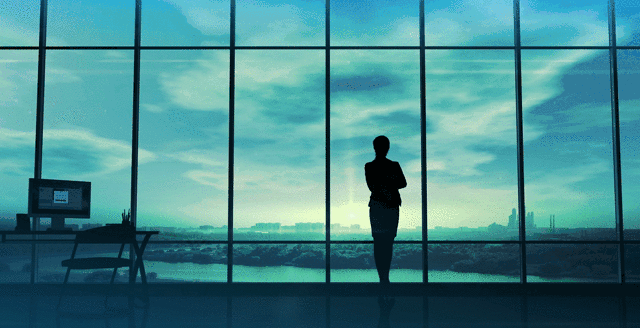 We are in the era in which way of system monitoring is also changing. It has become necessary to outsource the system operations to external specialized company, and reduce the number of tasks that require on-site presence.
Main reasons for outsourcing system operations
Shortage of IT staff

There is still a serious shortage of staff in the IT industry. This is due to the lack of industry-ready human resources. In contrast, the number of systems continues to increase, and the so-called "single person in charge of the information system department" has become common, where the person in charge of the system takes on other duties at the same time. The person in charge is under pressure of work, which may result in serious operational errors or incidents. There is also no room to develop human resources within the company.

Advanced and complex IT services

IT services have become very advanced and diversified, and in many cases, multiple systems are linked complexly. The personnel involved in this process must have professional expertise and know-how.

You can concentrate on your core job

We support operations around IT systems with our extensive know-how. You will not get swayed by inquiries about monitoring, maintenance, and failures. System operation personnel can be allocated to their core job without having to train highly skilled personnel within the company.
INTELLILINK System Remote Operations Support Service for Oracle
This service assigns personnel to support customer systems and provides operations support remotely. This service is for customers who wish to reduce the burden and cost of operational monitoring by outsourcing personnel.
(We can provide service 24 hours a day, 365 days a year and during daytime of weekdays. (You can select the service suitable for your use.)

This service is ideal for customers who have the following issues.
Difficult to establish an in-house system for operation monitoring 24 hours and 365 days
Establishing a system for responding to failure alerts when employees are exhausted to do so on holidays and at night
When the existing workforce is busy with daily operations and management tasks, and is not enough for undertaking the necessary development and improvement tasks
Operations are to be outsourced but there are no organized procedures and knowledge
There is no failure detection mechanism, resulting in prolonged service outages
Service Concept (Service offered using Oracle Management Cloud)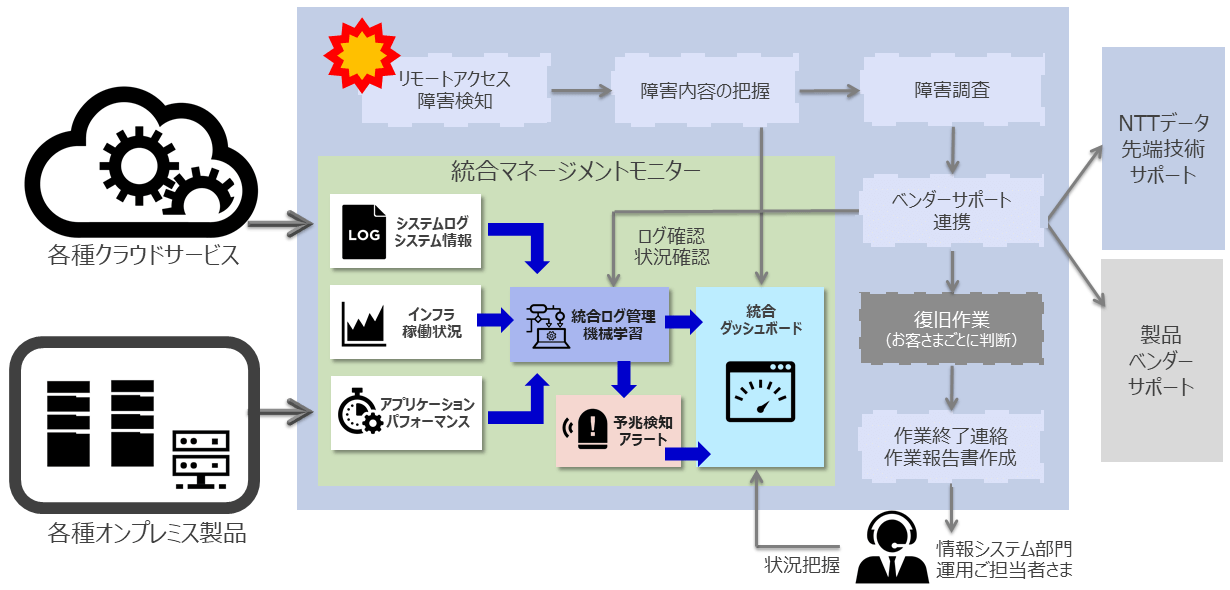 Results of INTELLILINK System Remote Operation Support Service for Oracle (Operation Monitoring)
Services
We support the operation and monitoring of customer systems focusing on Oracle products (SW, HW). Failure alerts are received at the monitoring center, and maintenance vendors can be notified by a predetermined method. We help customers reduce the burden of system monitoring and implement a quick initial response in the event of an emergency.
| Services | Service Details | Time |
| --- | --- | --- |
| Operation monitoring | Failure monitoring for target SW and HW and reporting when failures occur | 24 hours a day and 365 days a year |
| Information acquisition | Obtain information during failure investigation for the target HW (remote support) | 24 hours a day and 365 days a year |
| Periodic reporting | Periodic reporting of service response performance | Up to 12 times per year |
Actual Example (Remote operation monitoring service for a corporate client)
We have provided total SW and HW remote monitoring of customer Oracle Exadata Database Machine. By utilizing vendor solutions, the cost of the monitoring infrastructure is kept low, and when an alert is detected, engineers at our monitoring site execute an initial response according to the situation and work with the support center to help resolve the problem as soon as possible.
Support by highly technical Oracle experts
We support DB operations with assistance from highly technical Oracle experts.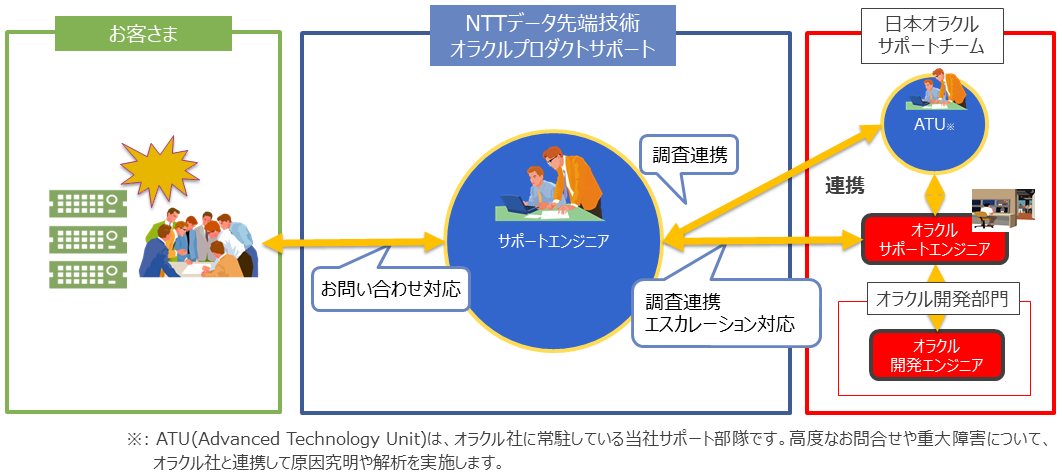 Contact
Since each customer has different system contents, please contact our sales representative for details.
Material Download
[Introductory Material] INTELLILINK System Remote Operation Service for Oracle (PDF: 2 pages, 1.09 MB)